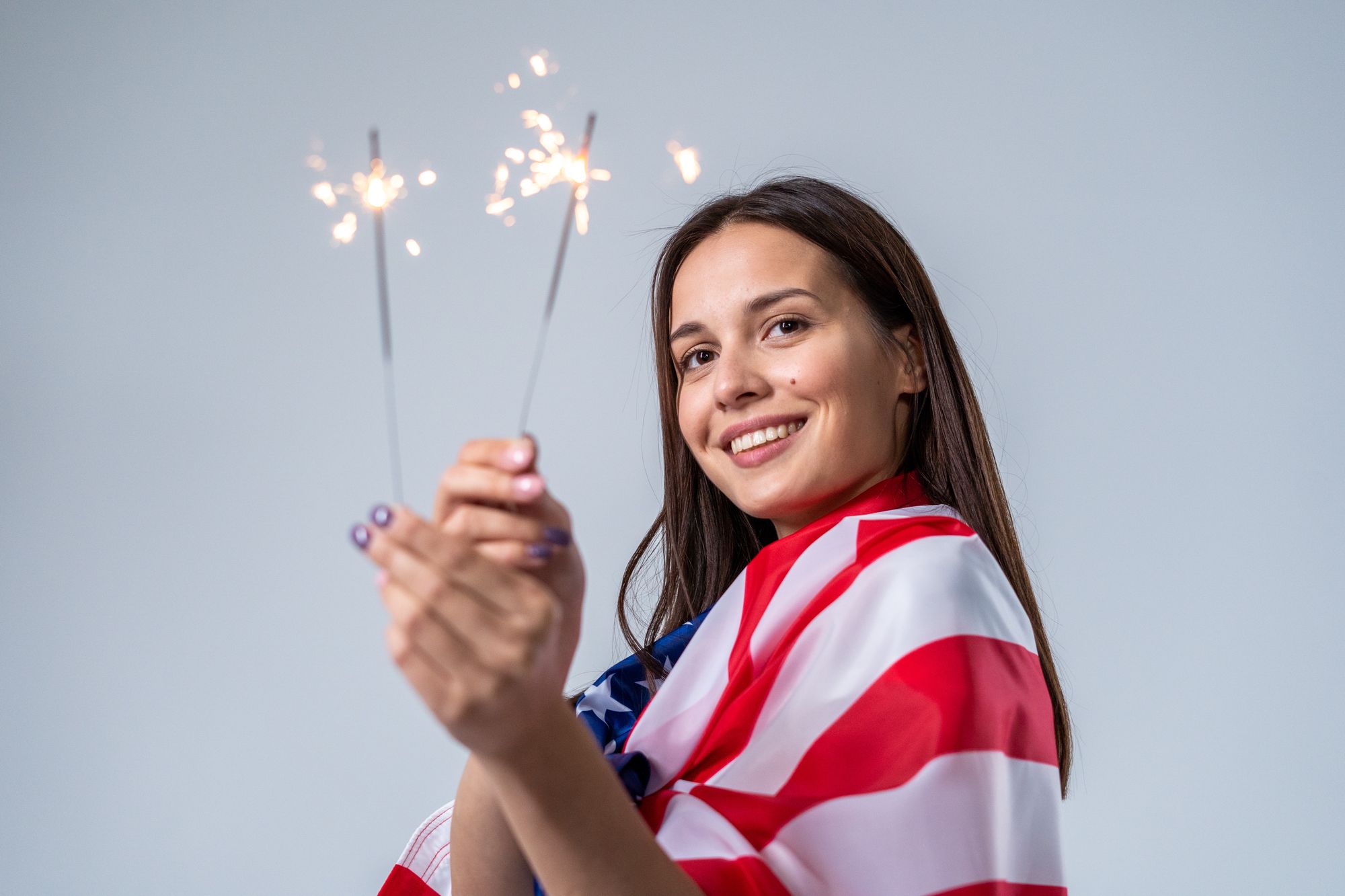 Boost Your eCommerce Sales with the Best Fourth of July Promos
Sparking a marketing campaign with a holiday theme can really light a fuse under your eCommerce sales numbers. While it may seem like the dog days of summer don't offer much in terms of significant holidays, maybe you're overlooking the Fourth of July and all the promo ideas for eCommerce it provides.

If you're trying to break out into a global market, US-specific holidays like the Fourth give you an excellent opportunity to boost your sales in July. But, the best part is our list of eCommerce promotional strategies isn't limited to the Fourth. You can also use them for any holiday event where you want to increase your sales and drum up brand awareness.

So, keep reading for some firecracker, high-converting promo ideas for your eCommerce business in July, and may the Fourth be with you.

#1. Themed designs

Fully communicate your Fourth of July promo with eye-catching, themed designs.

The traditional Independence Day aesthetics are incredibly bright and cheerful. Red, white, and blue designs, firecracker graphics, BBQ, and summer-themed emojis are just some ideas to get you started.

So when welcoming customers to your online Fourth of July promo, be sure to do it with flair. Here are some Fourth of July-themed email designs to get you started.

#2. Discounts for the Fourth of July

Don't just decorate your eCommerce store with Fourth of July designs. Instead, put those visually appealing themed designs to work promoting your holiday sales campaign.

If your eCommerce brand services the mid and down markets, discounts are a quick way to boost your sales numbers, and it's one of the easiest promo ideas on our list to deploy.

Usually, customers are more engaged with brands during the holidays and are already on the hunt for discounts. As a result, closing the deal is much easier — all you have to do is get their attention, which we'll cover next.

In the meantime, consider these top discount promo ideas for the Fourth of July:

Offer themed coupon codes, like Firecracker, Independence, USA, etc.
Discount red, white, and blue items in your store
Use a countdown timer to drum up excitement and FOMO

While discounts and holiday promos are excellent tactics for boosting sales in the short term, you want to give these strategies a long-term plan, too. Use this opportunity to capture more leads and nurture them into lifelong customers for your brand.

Let's get into that next.

#3. Use the Fourth to capture leads

We suggest a two-pronged attack to boost your sales this Fourth of July. First, send your holiday-themed coupon code to your current email list, and then offer the code to new leads via a holiday opt-in campaign.

So, how does this work?

An opt-in campaign utilizes things like popups, floating bars, and slide-in scroll boxes to capture leads. But website visitors need an incentive to give you their email addresses. That's what the coupon is for. Reward your current customers with the coupon, and use it to get new leads with an opt-in.

This particular Fourth of July promo idea has two goals:

1. Increases your customer base
2. Boosts your customer's average order value or AOV

In most cases, only a fraction of your new website visitors will be ready to buy, even if you're offering a discount. But that's all right. The opt-in allows you to nurture these new customers over time, giving you an increased AOV.

You're covering all your bases by offering current customers a coupon code and discounts to new leads who opt-in.

#4. Social media
Social media should be the cornerstone of your holiday-themed promo ideals. Fourth of July-themed hashtags, images, and other content shared on social media can help you drastically increase your engagement, impressions, and followers.

Launching a strategic holiday marketing campaign on your Instagram and Facebook page might be difficult. But it's critical that you don't forego this holiday promo strategy. Up to half of all surveyed consumers say brand presence during the holidays directly impacts their buying decisions.  

Here are some ideas to get you started:

Give your profiles a red, white, and blue refresh.
Change your Facebook header to an American flag, firecracker display, or another patriotic image.
Use holiday-themed hashtags in the lead-up to the Fourth.
Host a promotional contest.

Capping off your posts with themed hashtags like #IndependenceDay gets those posts in front of more people. Anyone searching for those specific hashtags will come across your posts tagged with them.

So anytime you're writing a post for social with a Fourth of July theme, don't forget to give it some relevant hashtags. Check out this extensive list of some of the most popular Fourth of July hashtags.

Promotional contest

Tech wizards have built social media algorithms to respond to and prioritize the posts that get the most engagement.

Running a promotional contest on your social media page is a fast and surefire way to drum up engagement and get people to like, click, and share. For example, you can run an online giveaway with a holiday theme, with the prize targeted to your ideal customer.

#5. Website promotions for Fourth of July sales

Using social media to increase your brand awareness and boost holiday sales is one thing. But arguably, your website is even more critical for boosting sales.

How so?

Well, unlike social media, your website offers you a lot more control and flexibility over how you present your offerings and control the customer experience. This is because you technically own your website, not your social media profiles.

More control over the message
Your website gives you more opportunities to nurture leads and close a deal. Consider integrating popups into your website that feature the products you most want to sell during the holiday.

You can also use retargeting pixels to promote your brand wherever your visitors go after leaving your store. This is an excellent way to keep your brand top of mind after the holiday is over and the hot dogs have all been eaten.

Because your website offers you the most control over how customers interact with your brand, prioritize the user experience when creating and executing any content strategy — not just a holiday-themed one.

Content should not only entertain but also inform and solve a problem your target customer is likely to have.

#6. Email marketing sequences

Sure, you can send an email on the day of the holiday. But if you want to be more strategic about it, plan a holiday-themed sequence instead to promote your offerings and give you the highest chance of success.

Planning an email sequence in the days leading up to a holiday promotion gives your multiple touch points and chances to remind customers and entice them to buy with various offerings. It also gives you several chances to drum up excitement and generate buzz about the deals you're offering.

Send your subscribers a couple of emails in the days learning up to your Fourth of July event. Set up your email service provider to automatically send subscribers follow-up reminders. Automated reminders bring your subscribers' attention back to your brand and unique offerings, increasing engagement in your holiday sale.

#7. Create a dedicated landing page

You've gotten people excited for your holiday sales promotion on social media and via email. Now, where do you send them? To a dedicated landing page.

Anytime you run a promotion, you'll want to create a dedicated landing page for it. Landing pages are mission-critical for any sales event since they can be tailored and tweaked to get the highest amount of conversions possible.

When designing your landing page, be sure to give it a holiday theme. For example, paint the page red, white, and blue. Also, use themed CTAs, or fireworks animation to get people excited for your event.

Another tip we might add is to include social proof on your landing pages. For example, showcase your reviews or add videos to the page demonstrating your products' effects and benefits to boost engagement and ROI.
Have a happy holiday with Lingle

Don't let the lull of the summer season dampen your sales goals. On the contrary, the Fourth of July is a great time to generate short-term sales increases and capture new leads for your eCommerce store.

Remember to use holiday-themed imagery, create a dedicated landing page, and use social media, your email list, and your website to communicate your offerings to your customers. Then sit back and enjoy the fireworks!

As always, Lingble's team of marketing and eCommerce professionals is here to help. Reach out to us today for more information on how we can position your brand for maximum success in a global market.