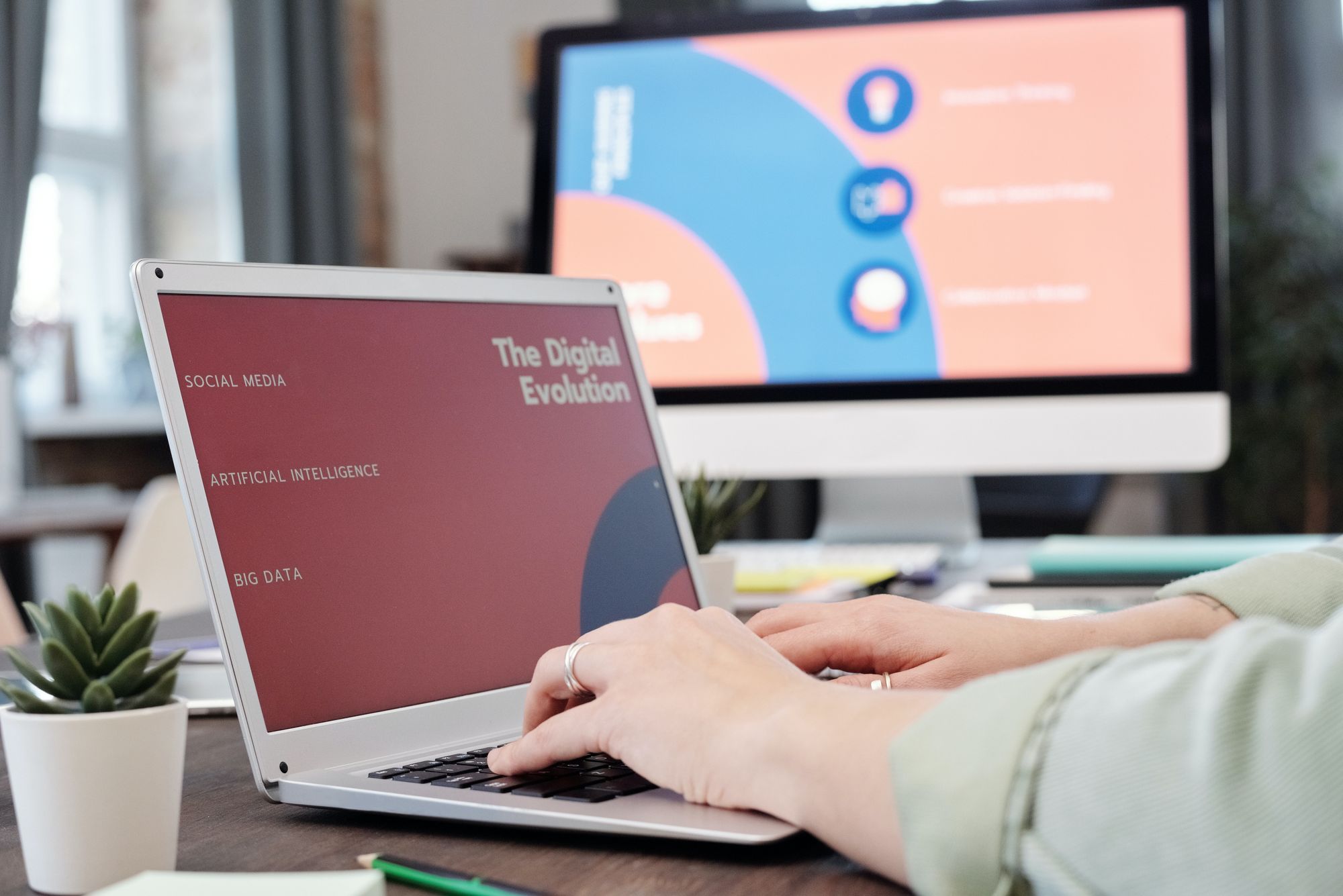 Evolution of Digital Marketing in eCommerce
Did you know that by 2040, 95 percent of all purchases will be through an eCommerce merchant?
In a world where more than 4 billion users worldwide use social media regularly, it's essential that every eCommerce business owner is familiar with the core tenets of digital marketing.
The bottom line is that digital marketing has come a long way since the birth of the internet in 1983.
Marketing strategies have drastically evolved over the years to fit the modern shape and needs of eCommerce stores. Unquestionably, marketing has changed over time from production-centric promotions to specialized services.
These strategies have all emerged from marketing. The overall digital marketing eCommerce evolution has given rise to newer trends and concepts such as business development.
This article will discuss the growth of digital marketing over the years and how it is now an integral aspect of eCommerce businesses.
Fall of traditional marketing practices
Traditional marketing was dominant decades ago when consumers had limited access to specific mass media channels like television, magazines, and newspapers. Many brands couldn't afford traditional media advertising due to its high cost, though it was pretty effective.
But as technological advancements in media evolved and consumers became more tech-savvy, everything changed. In came the evolution of digital marketing eCommerce.
Digital marketing eCommerce evolution and history
Digital marketing as a means of brand promotion started in the 1990s. Digitalization began with the advent of the internet and the evolution of the web 1.0 platform. In this web version, users could only access information. It didn't possess the capabilities for users to share ads and other forms of promotional content online.
In the beginning, marketers themselves weren't so certain that the online platform would be as successful as today. At that time, users had not widely adopted the internet. It was difficult to predict just how much digital marketing would evolve.
Birth of search engines and website traffic
In 1993, the very first clickable banner became live, and after that, HotWired bought some banner ads to implement in their digital marketing processes. This began the transition into digitalization, and the gradual shift created opportunities for newer technologies and marketing tactics to emerge.
In the same year, Yahoo also came into existence and received almost one million visits in its first year. This triggered a wave of changes in the field of digital marketing as companies started to redefine and redesign their existing websites to drive more traffic.
The year 1996 also ushered in several other debuting search engines like Alexa, LookSmart, and HotBot.
Emergence of top web search
On September 15, 1997, founders Larry Page and Serge Brin shortly trademarked the name Google and registered the domain google.com. Almost a year later, on September 4, 1998, they formally incorporated it as a company and founded the search engine.
Initially, the founders had named it BackRub in 1996. But thankfully, the name did not last. Google it sounds way better and less suspect than backrub it, right? Imagine telling a board meeting you were BackRubbing information for the Chief Revenue Officer.
Microsoft also created the search engine MSN, and Yahoo was the first to launch Yahoo Web Search.
The tech bubble burst in the digital marketing evolution
A few years later, the internet bubble burst. Google consistently optimized its search algorithms while others lost out, and ultimately smaller search engines couldn't survive as they didn't get much traffic. These shutdowns created room for big players to enter the market and capture a large share of it.
It still took a decade for things to scale. Digital marketing experienced its first significant growth in 2006 when the traffic from search engines reached 6.4 billion users in just one month.
Not wanting to be out of the game, Microsoft redefined the MSN algorithm and launched Live Search to compete with Yahoo and Google.
Web 2.0 introduced to the public
In January 1999, Web 2.0, the web we know today, was launched. It allowed users to load information into the browser window. People were no longer passive users and could interact with each other.
Businesses felt the change in digital marketing evolution, too. They became more independent and had the freedom to interact with their audience directly. The internet became an information superhighway, creating channels for digital marketers to leverage, and emphasized the importance of brand building.
By 2004, digital marketers and the advertising industry in the US alone had recorded $2.9 billion, along with the first-ever steep surge that came in when Google's traffic grew by about 6.4 billion.
Advent of social networks
Once it was unquestionable that the internet was widespread and had found a place in human lives, social networks started to appear. The first-ever social media launched in 2003,  MySpace. Orkut and Facebook soon followed.
Many companies realized the significance of these exciting platforms, so new avenues started to emerge and evolve. New avenues for businesses grew, as did enhanced digital marketing and eCommerce.
Of course, with the advent of new technologies, businesses once again needed to redesign their strategies in order to capitalize on the social media platform – leading to the evolution of online marketing.
Taking advantage of cookies
Advertisers began searching for innovative methods to make the most of the technology, and one of the methods involved analyzing the typical web browsing habits, frequency, and patterns of users. Hence, cookies found their way into digital marketing and helped marketers with tracking user habits.
Although the purpose of cookies has evolved over time, nowadays, they're programmed to gather in-depth customer data.
Progression of digital advertisement
Marketers had firmly established the digital marketing industry in the early 2000s and had made its presence felt. In 2004, the United States alone recorded profits from advertising on the internet of nearly $3 billion.
Then YouTube launched in 2005, and businesses found a platform for sharing videos. Currently, there are millions of subscribers and users enjoying YouTube, and enterprises are leveraging the platform to increase their sales.
The use of the web surpassed television viewing in 2011, and Google introduced Google Panda and Google +. Gradually, social media advertisements have become one of the most used marketing platforms for business, recording an increase of 64 percent in social media marketing budgets.
With the advent of newer technologies and the development of digitalization, customized advertisements on LinkedIn and other social media platforms came into existence.
2015 saw the beginning of wearable and predictive technologies along with active marketing and growth in inbound marketing.
We've almost reached present times.
The digital world witnessed the Covid-19 pandemic in 2020, probably the most significant growth spurt for eCommerce in the digital era.
Since eCommerce is constantly changing, retailers continuously enhance their online businesses to cater to customers according to their needs.
Enhancing artificial intelligence
Using Artificial Intelligence (AI) and digital marketing has transformed eCommerce. It offers tons of benefits and securely lets business owners scale their online stores.
Besides this, it helps predict and study customer purchasing habits, optimize inventory, capitalize on chatbots for better customer support, utilizes voice shopping, and optimize social media campaigns. Businesses can automate tedious and routine tasks with AI to reduce workforce needs.
New shopping experiences
Augmented reality (AR) and Virtual Reality (VR) have more practical applications than just super fun filters used on Snapchat. AR features appeal to younger generations and allow businesses to recreate in-store shopping experiences on smart devices. They are quite beneficial in creating interactive ads for better engagement, allowing customers to virtually try-ons before buying and judging product dimensions through 3D visualizations.
The future of Digital Marketing eCommerce evolution
From social media to search engine optimization – digital marketing affects lives daily.
Digital marketing offers small businesses and entrepreneurs the opportunity to gain a competitive advantage in the online world. Companies must leverage integrated techniques and tactics to venture further into digitalization and internet marketing.
The digital marketing eCommerce evolution has shifted paradigms and propelled businesses to develop personalized content, adapt to ever-changing SEO rules, and embrace smart digital technologies.
Who would have thought that popular marketing practices from a few years ago would become obsolete and outdated quickly? With the digital marketing eCommerce evolution, businesses have transformed their operations and witnessed increased ROI.
If you haven't followed the progression of internet marketing, you may lose out on establishing your brand. Now is the time to get back in the driving seat, digitize your marketing efforts and see the returns increase.
Contact our digital marketing experts today for help establishing your brand in a competitive global market.