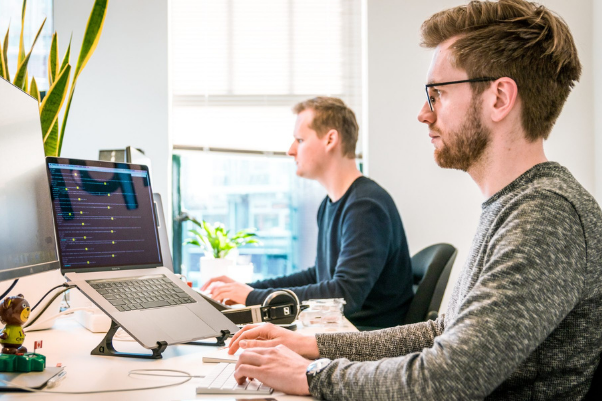 Importance of Live Chat in E-Commerce
How is your eCommerce operation taking care of its customers? In between worrying over product shipments, managing your staff, and everything else that happens behind the scenes, your business also needs to invest in customer support.

In fact, customer support is a critical part of the eCommerce puzzle. 84% of shoppers say that customer service determines whether they'll buy from your company. That means your customer support practices can make or break your business.

But we know it's tough launching your customer support plan. What's the best way to connect with your shoppers? How can you give customers what they want without emptying your bank account?

Live chat is the answer. If you want to dominate the eCommerce game, you need a live chat tool to communicate with your shoppers in real time. Lingble's customer service team shares the 5 benefits of live chat and 6 essential best practices to kickstart your live chat journey.

What is live chat?
Live chat is a type of customer messaging software that lets you communicate in real-time with shoppers on your eCommerce website. The software works within your web or app to initiate conversations with your visitors. Depending on your objectives, you can have live chats pop up:

Right after a customer enters the site.
During the checkout process.
On a specific page.

While it's a messaging tool at its core, live chat is about much more than exchanging information. At Lingble, we've seen the power of strategic live chat for eCommerce. You can use it as a tool to capture leads, reduce bounce rates, and even decrease cart abandonment. It's that powerful!

Live chat versus chatbots
Before we explain how eCommerce brands benefit from website live chat tools, it's important to distinguish live chat from chatbots. Some people use the terms interchangeably, but they're very different.

A chatbot is a computer program that simulates human conversation. In practice, a chatbot acts like a human agent, but in reality, it's a piece of software that spits pre-determined answers out to your shoppers. If you're using a well-made chatbot, sometimes customers can't even tell they're speaking to a machine.

Live chat is different because a real human is behind every message your brand sends to shoppers. In a nutshell, live chat is different from a chatbot because chatbots:

Aren't as smart: Sorry. No matter how much AI is in your chatbot, it can't rival a live human agent. Chatbots can only answer pre-programmed responses and questions. However, a live chat human agent can answer any questions and escalate the issue if necessary.
Can't empathize with shoppers: If your customers are upset about a product or service, the chatbot won't be able to help them a lot. With a live chat human agent, you can empathize with the customer and ensure that their problem is resolved.
Don't think outside the box: Every chatbot is programmed to generate answers for very specific situations. Sometimes they work, but if your shoppers have an unusual or unexpected question, the chatbot will give them a bad experience. Shoppers prefer live chat agents because the agents can answer their questions more quickly.

We don't have anything against chatbots, though. In some situations, chatbots can be beneficial for sharing shoppers' tracking information, your store hours, or other simple information that's easily shared. But when customers approach you with an actual problem that requires dialogue, live chat is always the best choice.

5 benefits of using live chat for eCommerce
If you're using email tickets or social media messages to address shopper needs right now, you might wonder, "Why does my eCommerce shop need live chat?"

When you install a live chat tool on your website or app, you'll see results that other customer communication platforms just can't match. At Lingble, we recommend our clients use website live chat to see 5 major benefits to their business.

1 - Generate leads with personalized messages
23% of live chat users hate scripted replies without personalization. But with a little bit of data, your live chat agents can personalize every chat sent to your shoppers. Since 44% of shoppers will become repeat buyers after a personalized eCommerce shopping experience, you stand to retain more customers with a live chat option.

With live chat, you can pair human interaction with a customer's search history. Your human agents have more context because of this, which allows them to make tailor-made suggestions that improve customer satisfaction.

2 - Live chat is more efficient than other options like phone support
While live chat is a much more efficient option than phone support, you won't have to sacrifice the quality of customer service.

Live chat agents are able to juggle multiple users at one time. That's much faster than phone support, which matches just one agent per customer at a time.

3 - Keep customers on-site longer to boost revenue
The longer shoppers spend on your site, the more likely they are to see your products' value and become a customer. Whether customers find you on your website or shopping app, a live chat function keeps people engaged so they don't abandon their shopping carts.

We've seen as much as a 10% increase in average order value from customers who engage in a live chat before checking out. That means that shoppers who chat with you spend 60% more per purchase than shoppers who don't.

Bottom line: if you're having problems with customers adding items to their cart without checking out, adding live chat to your website can decrease abandonment.

4 - Improve the customer experience by offering live chat
Although you're in the business of selling products, you should also be in the business of making life easier for your shoppers. And the stats don't lie: your customers want you to help them via website live chat.

42% of customers prefer chatting with brands via live chat (just 23% prefer email) and they expect it to be available on your website or app. In fact, 77% of online shoppers won't make a purchase if they notice you don't offer live chat support.  

When you invest in live chat, you're giving customers what they want. Since 79% of shoppers like website live chat because of its immediacy, your brand can't afford to get by with email alone. Investing in a live chat solution helps you connect with customers when they expect you to be there, improving customer satisfaction and increasing conversions in the process.

5 - Deliver on Millennial expectations
We know you've heard a lot about Millennials, but it's important to understand just how valuable this demographic is for your eCommerce business.

Millennials are people who were born between 1981 - 1996. They're unique because they were the first generation to grow up with wifi, smartphones, and social media at their fingertips.

We aren't saying you should ignore your other customer demographics, but Millennials should be a big reason why you start doing live chat. As the largest living adult generation, they have a lot of buying power. This generation is also more likely to shop via eCommerce and 50% say that customer service is a big factor in brand loyalty.

While past generations might prefer contact methods like email or phone calls, Millennials overwhelmingly prefer live chat. 71% of Millennials say the most important thing your brand can do is value their time; instantaneous live chat does just that.

All shoppers can benefit from live chat, but if you're trying to target the next generation of consumers, offer live chat options that are fast and convenient to boost your sales.

The downside of website live chat
At Lingble, we've learned that live chat is an affordable and effective way to connect with shoppers. But that doesn't mean it's perfect!

The big downside to live chat is that you do need human support agents to accommodate your users' needs. But if you're still growing your business, you might not have the internal resources or staff to handle every customer chat. And if you want to sell in an international market, the need for multilingual support can get complicated.

Fortunately, you don't have to do live chat alone. Lingble's multilingual live chat team is an asset for efficient, personalized live chat. You focus on your business and let your trained team handle the live chat. Every agent is trained on your brand so they can speak on your behalf, giving users help when they need it most.

Lingble's 6 live chat best practices
With Lingble, you can be sure that we will follow the best live chat practices to ensure maximum customer satisfaction. Here are our 6 tips for live chat:
1 - Watch your UI placement
Most live chat software allows you to customize where and how your live chat displays. But now isn't the time to be creative: put your live chat in a place where customers can easily identify and use it.

For most eCommerce shops, you'll want to put your live chat icon in either the bottom left or right-hand corner of the screen. That's where users have come to expect live chat, so don't put it anywhere else. Be sure to test the live chat on both desktop and mobile to ensure a responsive experience.
2 - You're human, so act like it
You've invested in live chat with human agents. However, most brands have some kind of script their live chat agents follow. It's your job to make this script as casual, helpful, and down-to-earth as possible.

For example, instead of starting every conversation with "Greetings", start with a simple "Hi" or "Hey there." Be sure your team is typing the way that you speak. If you're too stiff or formal, customers will assume they're speaking to a chatbot.
3 - Personalize whenever possible
Personalization can increase sales by 20%. Fortunately, live chat software gives you the power to personalize the shopper experience from start to finish.

For example, if you require users to sign in to your site, you can drop their first name into the live chat prompt. Requiring your chat agents to use the customers' names during the conversation also helps.

Some chat software can even personalize based on a customers' shopping history. You can send shoppers prompts like, "Ready to buy a makeup refill?" to personalize their experience and pull them through to converting more quickly.
4 - Automate live chat with smart triggers
Although live chat is backed by real humans, your team doesn't have to write everything from scratch. Live chat software allows you to plug in certain situations or prompts to encourage customer chats.

These prompts are types of automation that are great for:
Promoting events or new releases.
Informing shoppers about store updates.
Proactively helping customers with common issues, like sizing.

Instead of asking your live chat agents to do everything manually, automation features ensure your users get a better experience instantly.
5 - Keep your wait times very short
Did you know that the average wait time for live chat is just 2 minutes? If you keep customers waiting longer than that, you risk losing their business forever.

This is why it's so important to have a team like Lingble on standby to help your customers. Instead of making people wait hours for a response, you can handle customer inquiries as they come in.

If you can't keep up with customer chats for some reason, your live chat can share a note explaining delayed wait times.
6 - Accommodate international shoppers
Are you selling products internationally? If so, you can't offer live chat support to only the shoppers in your country or time zone; you have to accommodate everyone. This means you need a 24/7 team to address customer queries at all hours of the day, no matter what.

It's also important to offer multilingual support to your users. While some chat software automatically translates for you, this can be a risky option if your translations aren't correct. That's why it's best to hire native speakers, like Lingble's team, to serve your shoppers.

The bottom line
Today's shoppers want immediate solutions to their problems. Live chat gives you the means to personalize the shopper experience, engage shoppers earlier in the buying cycle, and encourage more purchases.

Remember to follow live chat best practices, though. Nothing kills a relationship quicker than spammy chatbots or slow response times. Done right, live chat is a strategic way to improve the customer experience and increase revenue.

But we know that live chat can have its challenges. If your eCommerce brand is growing and can't support a fleet of in-house live chat agents right now, partner with Lingble. Our multilingual CCT support team helps eCommerce brands dominate their chosen markets with timely, helpful support from real humans.