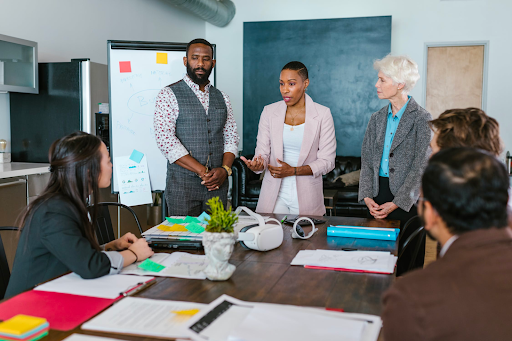 Post-Pandemic Success: How to Ace Cross-Border Business in 2022
The Covid-19 pandemic shut down physical shopping and retail stores to curb interaction and control the spread of the virus. However, it was unclear at the start what that would mean for small businesses and organisations that depended on people's power to survive.
Well, it turns out that they had nothing to worry about because the pandemic proved to be highly beneficial for businesses that embraced the situation, pivoted to e-commerce solutions, and continued to cater to their employees and customers digitally.
Let's explore.
Post-pandemic eCommerce: The stats
As the lockdown situation became the new normal for businesses and consumers, there was no other option for businesses than to shift to digital platforms and online selling — if they hadn't already. For those who had, investing more heavily in their eCommerce storefront had become vital.
Almost 24 million ecommerce stores generated $26.7 trillion in revenue over the last year or so, and this number is expected to rise over the years. So, there's no doubt that the online shopping trend is here to stay for good, long after the crisis is over.
In addition to opening eCommerce stores that sell locally, most retailers these days also ship nationwide. And now they are looking at shipping to the rest of the world.
As global e-commerce continues to rise, many e-commerce entrepreneurs use cross-border online stores to drive their growth. With the help of international payment portals and shipping companies, it's easier than ever before to sell your products worldwide.
This article will show you how to open a post-pandemic cross-border business in 2022 to become a recognized brand worldwide.

Build a successful eCommerce business: The basics
When you open an eCommerce store that caters to cross-border audiences, you might run into several frustrating hurdles. But don't worry. With a bit of detective work, you can overcome these common challenges.
To start, you'll need to plan and research possible problems and create strategies to overcome them.
Here are a few suggestions:
Identify the top need for your products
Before stepping into the global market, you must identify the weakness in the market that your unique brand can exploit. For example, if the countries you plan to target with your offerings already have multiple high functioning eCommerce stores in the same niche, customers are likely to buy from an established, local online store. This is because they receive the order faster and pay less in shipping costs.
So, it is vital to learn whether your product is needed in the cross-border market or not before launching your eCommerce store. A bit of tweaking to your product offering and some creative branding can go a long way toward capturing market share.
Take time to understand your target audience
When expanding their services across the borders, every online store owner's biggest challenge is not knowing their target audience. All communities have a unique culture, and you don't know their pain points. Since you don't know which marketing direction will give you the best results, you miss the mark, wasting time and resources.
That's why you need to conduct thorough research to learn what makes your target audience tick and direct your efforts toward those pain points. Mostly, you want to invest in the tactics that will give you the greatest rewards for the least effort.
Create an effective strategy to go global
Every country has its own rules and regulations, and you must strictly follow them if you want to expand your ecommerce business across their borders. Furthermore, you also have to pay foreign exchange taxes to operate your eCommerce business in the foreign country's domain when supplying cross-border products.
Many countries have introduced or increased such taxes since the pandemic. Moreover, these foreign taxes are more common in emerging economies that were dramatically impacted by the pandemic. So, you have to ensure that your business can still make reasonable profits after paying the required taxes.
This is why you must create a sound strategy before stepping into the cross-border eCommerce world. If you don't plan for these things, you can lose your shirt.
5 factors to consider while planning cross border eCommerce strategy
It would be best to consider multiple factors while making your cross-border eCommerce store strategy for success in 2022. These factors clarify your benchmarks, helping you optimise your results to show how well your store is doing. When you find any errors quickly, you have better chances of correcting them, so they don't further jeopardise your profit margins.
Here are the top 5 things to consider for a successful cross-border strategy.
Select the right platform
It's best to work with a reputable third-party platform to reach a cross-border audience. This is because these platforms are scalable, customisable, and optimised for maximising your conversion rates.
Moreover, language is the primary barrier when supplying cross-border shopping services. A third-party platform helps you translate and communicate in the local language.
Most online store owners use Amazon to reach a global audience. But choosing Amazon can lower your conversion rates instead of boosting them as there is a lot of competition on the platform
Due to that, it is pretty challenging to attract customers' attention — but not impossible. And if you master Amazon selling for your eCommerce venture, the rewards can be incredible.
What you need for success on a competitive selling platform like Amazon are your friends at Lingble. Partnering with our eCommerce marketing experts will reduce the inherent risks associated with cross-border selling and increase your chances of reaching your target audience.
Localise your content
When you start shipping crossborder, you'll need to market your products to local audiences. Email marketing, social media marketing, and text marketing are best to inform your potential customers about your service. And don't forget to add enticing CTAs to attract them to your store to make a sale.
Write this marketing content in the local languages to personalise your products for the region. So, instead of translating product descriptions and marketing content, ensure you write new content according to the domain's culture, using their everyday words.
Provide multiple payment portals
The payment options you choose can make or break your eCommerce store. Usually, people choose cash on delivery option, but 60 percent of consumers prefer to pay through credit or debit cards since the pandemic. Along with credit and debit cards, PayPal is also one of the dominant global payment methods with 254 million users.
Therefore, your e-commerce store must provide multiple payment options so that everyone can shop from you conveniently. You should also ensure that all payment portals are secure for your customers' safety.
Take care of logistics and shipping
You have to ensure that the shipping service you use charges a low shipping rate, delivering the package intact and on time.
You can also buy or rent a warehouse to store your product in bulk in the respective country. But only do this if you get many orders from that specific area. It's expensive to rent and maintain a warehouse in different countries, so you want to make sure your ROI makes sense. Moreover, you will have to invest in a large inventory, resulting in loss if items are not sold on time.
The best solution is to use a third-party platform that offers logistics and shipping services. This way, you can accurately predict the shipping cost and ascertain that every item ships and reaches its destination on time.
Provide prompt customer service

Customer service plays a significant role in keeping your customers happy and loyal to your brand. Remember that happy and satisfied customers always return to your service and recommend it to their close friends and family. So, to give your customers the security they need in purchasing from you, provide excellent and prompt customer service.
Instead of doing the typical 9-to-5, instead offer round-the-clock customer service, so your customers can always reach you despite the difference in time zone. Additionally, hire customer support officers who can speak the local language of the country you are supplying and know how people of that culture interact.
Use multiple channels such as email, phone number, WhatsApp, and social media platforms to provide customer service.
Common risks associated with cross border eCommerce stores
Every eCommerce store carries some risks, but they can seem daunting when you supply your services across the border. So, you need to know these problems and brainstorm effective ways to circumvent them:
Credit or debit card fraud
The primary payment mode for cross-border eCommerce stores is online payment through credit or debit card, bank transfer, PayPal, etc. This increases the risk of payment fraud.
Some customers abuse the generous and flexible return policies and file false return payment claims. They might say they didn't receive the product or give false evidence to show they received a damaged or used product.
In these cases, if there is enough proof, the merchant (bank) returns the payment to the customer. This can be detrimental to business as you lose the product and still have to pay the logistic company.
Returned orders
As cross-border shipping can take weeks, people have time to reflect on their purchases and rethink if they really need the product or not. So, when the product arrives at a later date, they refuse the order and demand a refund.
Sometimes, people accidentally write an incomplete address, and the logistics company ships back the item. Unfortunately, you have to pay the delivery costs without covering it through item sales when these things happen.
Opening a cross-border eCommerce store post-pandemic: Punchline
Since the pandemic has paved the way for cross-border eCommerce, you can start a new business or expand your already established eCommerce business globally. First, however, research every challenging element to make sure you don't get caught off guard.
We can help you stabilise the risks by providing you with a safe platform to launch your eCommerce store on a global level. We cover localised content, customer service, payment portals, and logistics.
So, get in touch with us to plan your post-pandemic cross-border business strategy.