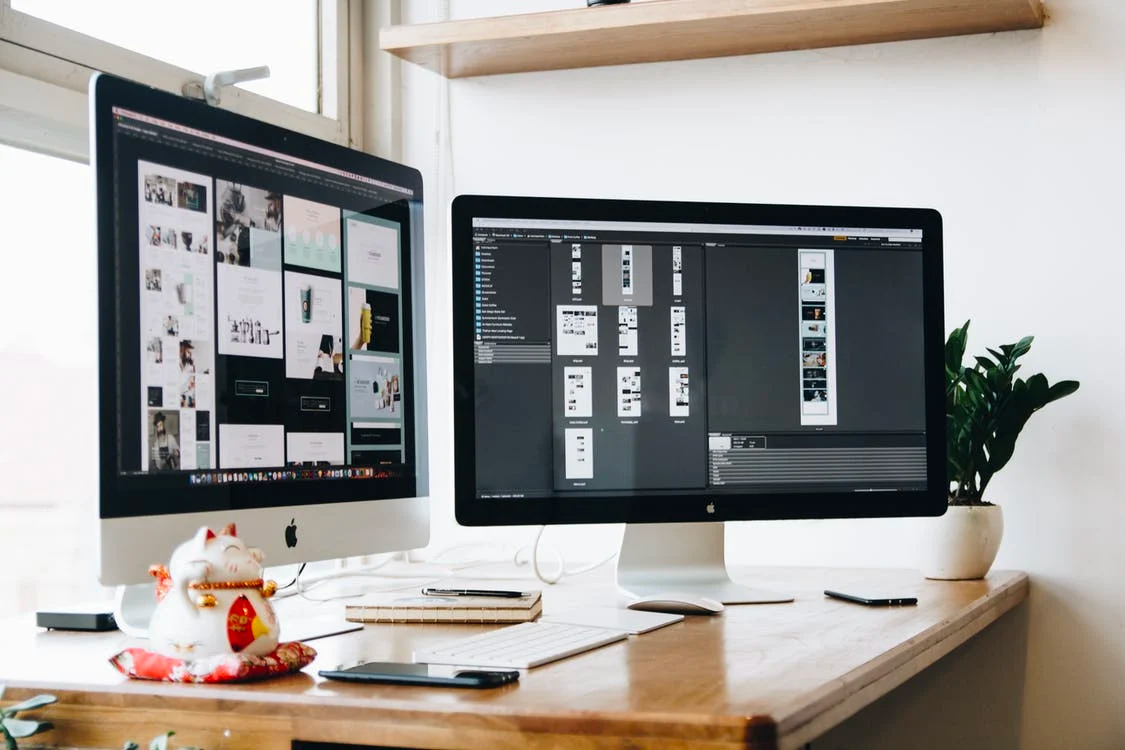 The Top 5 Tools for Building Website Creative: Free and Paid Plans
Businesses have found and conquered the world of digital marketing over the last decade or so. And now marketers are on the lookout for ways to enhance their reach to online customers and build a mutually beneficial relationship with their unique target audiences.
The main avenue of contact with prospective and current clients is the website for most online sellers. That's why it is vital to keep up with the latest design trends and refresh your website creatives periodically.
The trouble is that not only do the design trends change overnight, even the tools used for designing them also come and go.
But, at the end of the day – web design creatives are here to stay!
If you're on the hunt for free and low-cost tools for building website creatives, you've landed on the right page. Keep on scrolling for the best platforms that'll level up your online presence for less.
Why worry about website design and creatives anyway?
It has never been easier or cheaper to build websites. That explains why there are over 1.7 billion websites, and this number keeps on growing daily. But for entrepreneurs, that's a lot of competition.
Many business owners are struggling with the same question:
What's the best way to attract customers to my website?
Of course, not everyone likes reading long posts or watching lengthy promotional videos. So undeniably, businesses have had to come up with innovative strategies to attract their ideal customer. One such tactic is launching a limited-edition marketing strategy powered by the right visuals and compelling copy.
Pictures and graphics play an essential role in the success of a brand online. It's rightfully said that a picture speaks a thousand words. This visual collateral is one of the most significant elements of your marketing efforts, products, or branding. Powerful visual creative can capture attention instantly.
The good news is there are plenty of free and paid tools for building website creatives. So whether it's designing product ads, landing page banners, or design mockups, it's possible to make pretty much any visual element for your website for a low cost and minimal effort.
The top 5 best tools for building website creative
The right design and organisational tools can help you bring your website designs to life. From creating sales pages and social media posts to building brand value, these tools can help you do it all.
Let's explore the best tools for building website creatives.
VistaCreate: Most design options

Whether you want to design content for print media or web mediums, it's easy to do with VistaCreate — no matter if it's digital content or printed. With VistaCreate, you can effortlessly design these creatives (and much more):
Email headers
Blog graphics
Brand logos
Website banners
Social media posts
Posters
Business cards
Flyers
All are a piece of cake.
VistaCreate is without a doubt an easy-to-use online design editor giving its users access to thousands of ready-made, customizable templates. Not only this, its library is simply massive with at least 50,000 animated and static video and audio clips, over 10,000 design elements, along with 200 million-plus royalty-free stock pictures – you really couldn't ask for more.
The best part is that it's absolutely free of charge and fully customizable.
Also, it has a user-friendly interface with a built-in drag and drop editor that allows you to upload your illustrations for designing even more creative ads and banners for your business website. Certainly, with VistaCreate, there is no fuss or expense while you focus your energies on designing the stunning piece of artwork capable of attracting your target audience.
Basically, it's a no-brainer that VistaCreate is a tool that has become a go-to for many web design solutions with approx. 4 million users globally.
InVision Studio: Best for improving workflow

It's the only design tool you need in your life. InVision offers bold and innovative design solutions to obstacles many web designers face. With a deep appreciation for the art and science behind designing web creatives, the platform also allows you to harness the power of design.
InVision Studio offers free and paid plan tiers.
This tool for website creative comes with a bucketload of unique design features that support you in crafting beautiful and interactive web banners. However, it's not limited to just web banners.
This tool can also help you create stunning, eye-catching visuals for all your web related designs, such as portfolio banners, landing page images, homepage banners — the list goes on.
Essentially, InVision is an animation design tool that lets you quickly create complex, imaginative, and vector-based designs, thanks to its countless canvas and flexible layers. Additionally, one can speed up their workflow by capitalising on InVision's competencies and interactive prototyping.
Canva: Best all-around free tool
Canva is another popular website creative tool with easy drag-and-drop layouts, attractive design templates, and amazing features. It lets you build everything from book covers, banners, infographics, branded Instagram stories, resumes, social media graphics, short videos (GIFs), and many others – all through an intuitive and straightforward interface.
You can choose from several free tiered pricing plans.
Canva supports all types and kinds of web designs, making it one of the most popular tools for building website creative.
It lets you access millions of vector-based images, stock photos, illustrations, free fonts, photo filters, and design elements as a web design goldmine. But, that is not all, it has an enormous catalogue of free templates to meet all your design requirements. Like InVision Studio, Canva also has a drag and drop feature, making designing more than just editing.
Thanks to all this, Canva's active online community grew to over 130 million, making more than 3000 designs each minute. This is why it's the perfect tool for building website creative, elevating your designs to another level.
Snappa: Best integration and bang for your buck

Snappa is a web design tool that perfectly blends simplistic interfaces with a functional graphic editor. As a result, it enables you to design outstanding visuals for your website. Moreover, it also supports a wide array of platforms such as social media, websites, advertisements, and blogs.
With Snappa, you can create, download, and share your stunning artworks and web designs even without any design skills. Offering a wide variety of existing templates, Snappa allows you to play and create something worthy of positive reviews from customers.
Snappa offers a free plan, and tiered plans at 10 and 20 dollars per month, making it a very affordable design tool.
Moreover, you can edit your images as well as animations while adding your own touch of individuality by choosing from a catalogue of video effects. It comes packed with an archive of fonts, icons, stock images, and other design elements.
Snappa stands out from the rest of the tools for building website creatives in its ability to give access to thousands of free graphics and photos. It's indeed a cloud-based design tool with an easy drag and drop mechanism and supports collaboration among teams.
BeFunky: Best for photo editing

BeFunky is an all-in-one creative platform like Canva, which helps create and edit images with the power of appeal. It features a simple interface with drag-and-drop support, just like the other tools for building website creative listed here.
Moreover, it's a fantastic photo editor that extends into a collage and banner maker, totally unlike other online tools.
BeFunky offers a free plan, but the options are fairly limited. Its paid plans run from a low of under five dollars per month for annual billing, and just under 10 dollars a month for monthly billing.
With BeFunky, you can access hundreds of customizable design templates for social media, web ads, online events, business cards, marketing banners, and much more.
Therefore, the entire process of designing an eye-catching design gets simplified with its personalization features. The entire canvas becomes your playground with access to plentiful customizable icons, fonts, and other graphical elements.
Additionally, with BeFunky, you can edit hundreds of images with batch processing, erase objects from pictures and polish them to simply flawlessness.
Best tools for designing website creative: Punchline

Undeniably, investing in the right tool for building website creatives has the power to make or break your design. Moreover, it empowers your business with stunning and creative artwork that will grab people's attention and delight your target audience.
No explanation needed,  creating the best designs for your business will attract the right attention, boost brand visibility, increase engagement on social media platforms and create a competitive edge in the crowded eCommerce market.
Luckily, many tools highlighted above have a free version, so you can try them before investing in paid features. Also, all of them allow you to optimise your creative designs through easy-to-use interfaces, a massive library of free royalty-free images, and a catalogue of templates.
In a nutshell, businesses don't need to invest in expensive design tools. Instead, it's all about taking advantage of the best free design resources. We have listed the top 5 tools for designing the best website creatives and taking your design game to a whole new level. Start growing your business and customer base with these free tools.
Are you ready to grow your business with a holistic, customised marketing strategy that fits your eCommerce venture like a white glove? Reach out to us today to get started.