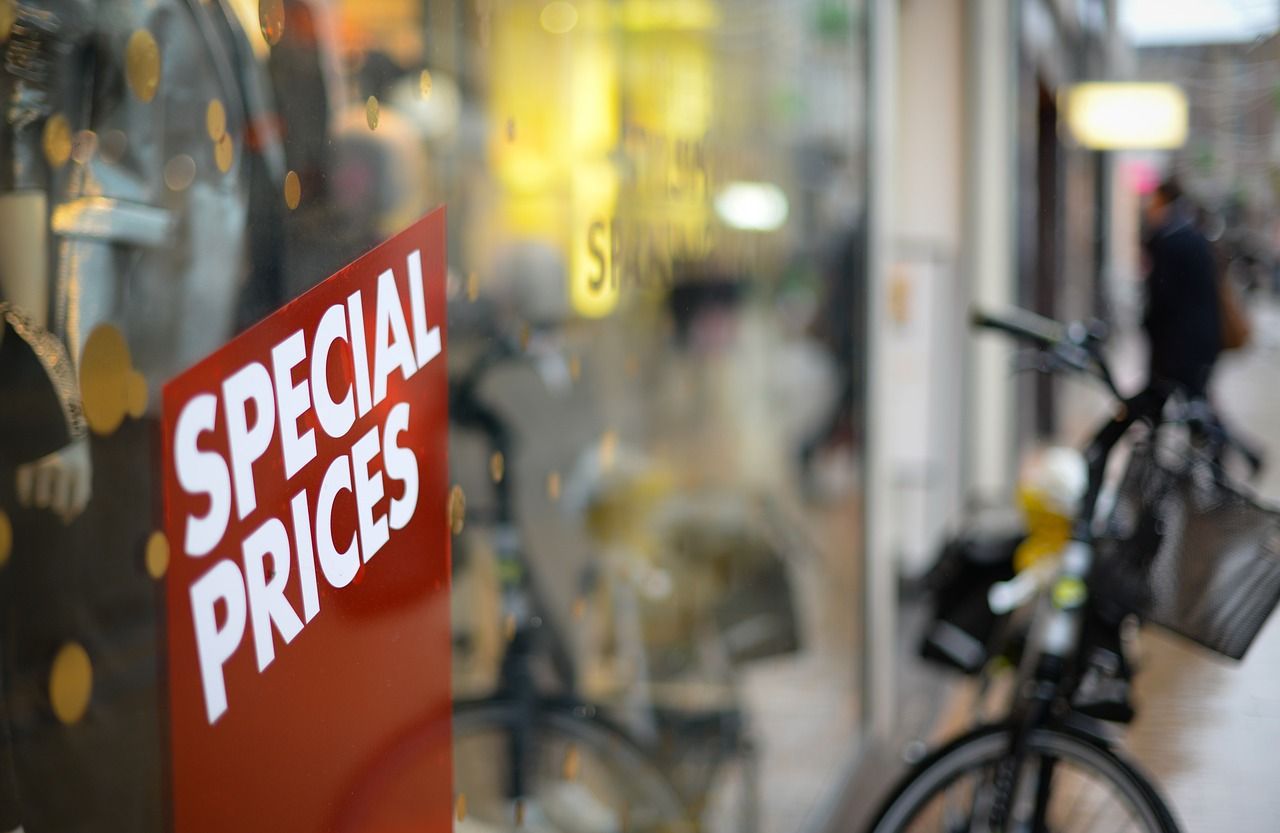 Top Sales Promotion Techniques to Reach More Customers
Offering discounts is an excellent way to motivate interested customers who are otherwise dragging their feet on finalizing the deal. But there's a right way and a wrong way to offer discounts and promotions. This article will break down the top sales promotions techniques you can use to increase your conversion rates.

If you're ready to get started with a bespoke marketing plan that's tailored to your business, reach out to us today for a free consultation.

Without further ado, let's get down to business.
How do discounts and sales promotions impact customer behavior?

Offering a discount or running a big promotional deal can increase your conversions and raise brand awareness.

Promotions marketed on social media can encourage followers to share your promotions with their friends, getting your brand in front of new eyeballs and potential customers. But more importantly, sales promotion techniques can significantly impact consumer behavior.

For starters, consumers know that most brands will run sales promotions throughout the year — most notably on major shopping holidays like Black Friday, Cyber Monday, 11.11 or Year End Sale.

Recent studies have uncovered the following:

64% of online customers wait to purchase items until they go on sale
59% of consumers will search for promo codes before purchasing
30% of consumers use price tracking services
22% of customers buy items from their favorite brands only when there's a sale, or they have a coupon

The bottom line is, offering discounts and using sales promotion techniques will directly affect customer behavior. A significant percentage of your customer base will wait until your items go on sale to buy them.

With sales promotion techniques, you can be sure to capture dollars from this specific subset of your customer base.

Strategically offering discounts: What not to do.

You'll only reap the rewards of a sales promotion technique if you do it strategically. Consider the following before diving into the discount waters:

Don't offer a discount simply because someone asked.
Don't promise a bargain before a sales negotiation occurs.

But why?

If you're looking for a healthy ROI, you don't want to start selling your offerings for less right off the bat. You risk buyers viewing your offering, and by extension your brand, as less valuable than a competitor's.

When the focus shifts from value to price, customers aren't thinking about how great your product is and how it will improve their lives. Instead, they're solely focusing on the cost. So, you lose a bit of bargaining power. Regardless, you want to make sure that you avoid one-way concessions when offering a discount or running a sales promotion.

Top sales promotion techniques

The following sales promotion techniques ensure that your customers have some skin in the game and protect your profit margins. While the customer is still getting a deal, you're providing a healthy ROI for your business.

#1. Bundles

Offering bundled discounts is an excellent sales promotion strategy. Bundles and kits are highly focused on the value the customer gets instead of the discounted price. Plus, bundles increase the number of products you can sell, giving you ample upselling opportunities.

Another significant benefit of offering bundle deals is increasing your average order value. And if you have a product line with varying price points, bundle discounts give you a chance to provide customers with a solution that highlights your offering's value — since they can purchase high price and low price items together.

Let's say you have a few heavy hitters and less popular products. You can convert products that otherwise don't convert well independently by bundling your best-sellers and slow movers together.

One last benefit of this sales promotion technique is that customers try your other products, giving you an excellent cross-selling opportunity.

#2. Volume discounts

Offering customers a buy more, save more opportunity is a great sales strategy for getting them to open their wallets. For fashion companies, volume discounts are incredibly popular for driving more sales and conversions. Volume discounts are also an excellent technique for luxury retailers who want to encourage customers to convert.

Another way to look at volume discounts is as a tiered pricing strategy. For example, if you want to increase your conversion rates on specific products or services, try a volume discount to get more inventory moving.

#3. Shopping event discounts

Major shopping holidays and seasonal sales events give you ample opportunity to increase your average order values and conversions. Chances are, you've heard of these discount events before — Black Friday, Cyber Monday, 12.12, 11.11 — the list goes on.

This particular sales promotion strategy is so popular because it works. For example, 2020 Black Friday sales generated $9 billion in revenue. Naturally, your customers want to snag products they've had their eyes on at a discount on major sales events and holidays. So, you'll want to capitalize on their increased purchasing motivation on these specific dates.

But you don't have to wait for Black Friday or other sales events that only happen once per year. Instead, consider offering a birthday coupon for your email subscribers. Or hype up a specific day for your brand where you offer a one-day annual sale with an exciting offer.

#4. Prepayment discounts

If you sell luxury goods, large items, or big-ticket items, prepayment discounts can be an excellent sales strategy for your brand. B2B businesses can also benefit from this particular sales promotion strategy.

#5. Free shipping

Consumers love free shipping. Offering this type of discount on your items can get more people into your store and clicking buy.

With the rise of Amazon Prime, free shipping is a huge draw for customers and can seal the deal if you're offering free shipping versus a competitor on a similar item.

While it's true that short delivery times are popular with customers, many customers are willing to wait a bit longer to receive their items if the shipping is free.

We recommend doing some research into your customer base to see if this is a good strategy for your brand. An excellent place to start is to ask customers how much they're willing to spend to unlock a free shipping discount.

You can also use a free shipping discount in tandem with other deals, like bundles or BOGOs. For example, if a customer buys two bundles, they unlock free shipping, or buy one, get the second half off PLUS free shipping, etc.

#6. BOGO deals

Offering a buy one, get one free, or buy 2, get one free deal can help you move a lot of inventory in a short period. In addition, your customers will love it because it gives them a substantial discount on the products they've had on their wishlists. It's also an excellent sales promotion technique for increasing your cross-selling opportunities.

We suggest deploying this strategy with products that complement each other or on the same items.

Unique moments for offering discounts and sales

When you're looking to increase your conversions with discounts and sales promotions, sometimes, the offer's success comes down to timing. There are unique moments within the customer journey you can capitalize on to generate more sales.

For example:

Sending a discount when a customer abandons their cart
Displaying an exit-intent popup highlighting an offer
Giving current customers a referral offer
Offering a first-time customer a special discount
Offering a discount for subscribing to a newsletter

We recommend that your discounts and offers be time-sensitive. Make sure you clearly convey a sense of urgency with your offers so that customers are more likely to take advantage of the opportunity and convert.

Pro tips and caveats when offering discounts:

While running a sales promotion can be a fun way to increase your conversion rates, don't get too caught up in the excitement. You want to protect your bottom line while also giving the customer a good deal.

So, keep these in mind:

Be aware of your margins and how much you can afford to discount
Understand your customer acquisition costs when crafting a sales promo strategy
Set affordable, realistic sales targets when offering discounts

Always be aware of how much you can afford when running a sales promotion, and be sure to deliver value to your customer without overpromising.

Sales promotion techniques and strategies: Punchline

Your customers are on the hunt for sales, and everybody loves a good deal. When offering sales and discounts, be strategic about it. While you want to provide value to your customers, you ultimately want to protect your margins and run a profitable business.

Keep these tips, strategies, and caveats in mind, and you'll have a much easier time cross-selling and upselling your inventory with a sound, airtight sales strategy.

Ready to get started with a marketing plan that generates the results you've been looking for? Reach out to us today online. Or shoot us an email at [email protected] to schedule your consultation.