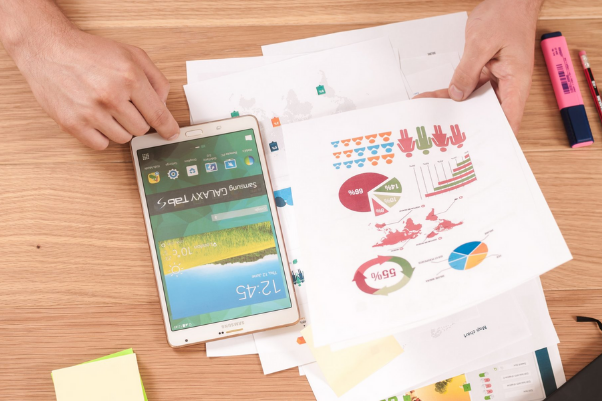 Why SEO And Quality Content Marketing Fit Together Like A Lock And Key
Everybody wants to show up number-one in search engines. eCommerce businesses are obsessed with search engine optimization (SEO) because it means scoring more traffic, brand awareness, and sales.

However, SEO doesn't work by itself. It needs its trusty sidekick, quality content marketing, to get results.

The problem is, few business owners see the value of quality content marketing. "Content" has become a fluffy word that feels like a waste of time and money for businesses.

Done wrong, content marketing can be wasteful. But done right, it's the perfect accompaniment to your SEO efforts.

Everybody wants to "do SEO," but that means you need quality content marketing, too. They're two completely separate marketing disciplines, but they need each other to get results for your brand. You have to integrate your SEO and quality content marketing efforts to get actual results.

SEO covers the technical side of things, appealing to search engine bots. Quality content marketing helps you tap into the artistic side of content, which appeals most to human users.

Fortunately, you don't have to choose between the two. Lingble's team put together a knowledge base on how SEO and quality content marketing bring value to the table, as well as our expert recommendations for using them in eCommerce.
Why Does Quality Content Marketing Matter, Anyway?
Content marketing is treated like the ugly duckling of eCommerce. But with the right care, it can transform into a beautiful swan. When you invest in quality content marketing, you'll do 3 amazing things for your eCommerce business.
1 - Build brand awareness
SEO and quality content marketing are both long-term strategies. It's unreasonable to expect one blog post will turn your business around overnight.

If you're willing to put in the work, quality content marketing will build brand awareness. Good content sets your brand apart: it's a critical differentiating factor, especially in a crowded eCommerce niche. When it's time for a customer to make a purchase, they're more likely to remember brands that have a personality, and content is the way to make your personality shine.

The key, of course, is to write content that's actually original. Don't parrot the same tips that everyone else is sharing. Behind every great brand is a wealth of knowledge, so share what you know—even if it's contrary to what everyone else is saying.

For example, Lingble sometimes gets some heat for our contrarian or downright unique point of view. But we continue sharing that POV with the world because we know it's valuable and that it makes us different. Do the same in your business.
2 - Improve SEO
Quality content marketing improves your existing SEO efforts. In fact, content marketing is a savvy SEO technique that increases your position in the search engine results page (SERP).

Content gives your brand more opportunities to rank for important keywords. Plus, high-quality content keeps users on-page longer, which is a valuable signal to search engines that can boost your SERP position.

In our experience at Lingble, we've seen how content marketing doesn't work if eCommerce brands don't invest in it. If you want more eCommerce orders, you have to allocate a healthy portion of your marketing budget to content. Do quality content marketing right and arm your team with the tools to do it right—the payoff is worth it.
3 - Increase sales
Good content increases your website traffic. And when you have more people on your website, there's a good chance you'll increase sales.

It's true: 74% of companies that invest in quality content marketing see an increase in the quality and quantity of their leads.

Quality content marketing increases sales because it gives you the opportunity to educate and engage with customers before they buy. You're building relationships and giving customers the information they need to make an educated decision.

Quality content marketing addresses your customers' needs first and foremost. Address customers at every point in the marketing funnel with this approach:

Top of funnel: Educate prospects on potential solutions to their problems with how-to posts and guides.
Mid-funnel: Show leads all of the options on the market, comparing different solutions against each other (and why yours is the best).
Bottom of the funnel: Give customers a final nudge to buy with content like unboxing videos or testimonials.

If you want more eCommerce sales (and we're certain you do), quality content marketing is a must.
4 - Score more backlinks
Every brand should want more backlinks. This is what happens when an authoritative website in your industry links to your website. Search engines prioritize high-quality links from established, reputable websites, so if you can snag a link from a website with high domain authority, it's great for your SEO. For example, if you write a piece about the craftsmanship behind your brand's jeans and Vogue links to your article on their website, that's a fantastic backlink! Same goes if you write a blog post about the newest kitchenware products from your brand and a renowned chef adds a link to your article in their blog.

Search engines use backlinks as a ranking factor because backlinks demonstrate how valuable users find your content. So, when you have more high-quality and relevant backlinks, search engines will reward you with more traffic.

Content marketing makes good SEO possible because it increases your opportunities to earn more backlinks. After all, who is going to link to your brand's product pages? What you need is content marketing in the form of blogs, podcasts, and videos to encourage other people to link to your site.
Why eCommerce Brands Need SEO
More brands see the value of SEO than quality content marketing, but there are still business owners who refuse to invest in SEO. If that's you, beware: your store won't sell as many products.

At Lingble, we believe SEO is truly make-or-break for eCommerce. It's that important.

Successful companies integrate SEO into their overall marketing strategy so it works hand-in-hand with quality content marketing. When you invest in SEO, you'll see 3 big benefits for your brand.
1 - Acquire new customers
When you have a question, where do you go? If you're like 99% of people, you consult a search engine first.

That's why SEO is an essential channel for bringing new customers to your site. When consumers need a product, they consult Google for options, tips, and comparisons to make an informed decision. Since 90% of customers read search engine reviews before they trust a brand, you need to invest in SEO.

But what happens if your site doesn't appear in the search engine results page? New customers will visit your competitors instead, which means you lose out on a lot of business.

Even if you list products on your website, it doesn't mean they're searchable. SEO makes eCommerce profitable by making your products accessible to curious customers.
2 - Save money
The Lingble team loves paid ads, but they aren't always the best option for increasing eCommerce sales. SEO is one of the best, most cost-effective methods to grow your bottom line.

Strong SEO means you're less dependent on pricey paid ads. Yes, ads are effective in their own way, but if you have a tight marketing budget, SEO is a lifesaver.

SEO traffic is "free." You don't have to worry about cost-per-click or daily bids. All you need are a few tools and a sharp team to do the job right.

Of course, if you're already seeing results from paid ads, please continue. SEO will help you find more easy wins in the long term, though, complementing paid strategies beautifully. Feel free to do paid promotions, but don't invest in them without SEO.
3 - Long-term benefits
When you run an advertising campaign, how long do you get results from that campaign? Odds are, traffic stops the moment you hit "pause."

SEO is the complete opposite. It's a strategy that requires a long-term view, but when you do it right, SEO will take care of your brand for years to come.

Plus, your SEO efforts build on top of each other, which helps you dominate your market the longer you do it.
How SEO and quality content marketing work together
SEO and content marketing are like a lock and key: you need both working together to unlock the full power of your brand.

SEO draws people to your site via search engines and content marketing closes the deal with great content. Both approaches work together to attract and convert site visitors into paying customers.

If you're still on the fence about SEO and quality content marketing, here's how they work together to increase eCommerce sales. Learn from Lingble's experiences in the eCommerce niche and how to best position yourself for SEO and content marketing glory.
1 - Churn out consistent, quality content
Consistency is a big factor in SEO. Remember, both SEO and content marketing are long-term strategies. You need to invest in them consistently over a period of months and years.

Search engines like Google love fresh content. Generally speaking, search engines will rapidly index and register new content higher in the SERP than older content. SEO demands a consistent stream of high-quality content on your site, and quality content marketing fills that need.

On the content marketing side, your customers want to see regular content on your site. Consistency gives customers an idea of when they can expect more content from you, encouraging them to visit your site again and again.

And what do customers do when they repeatedly visit your site? They buy more of your stuff, more often.

SEO and quality content marketing make each other invisible, and that's a good thing. You never want content that's an obvious, spammy play at SEO. Site visitors know what you're doing, and search engines will notice, too. Customers will leave the site and search engines might even penalize you.

eCommerce brands have to combine SEO and content marketing to share consistent, quality content that both human shoppers and search engines want to see.
2 - Boost brand visibility
It's impossible to succeed in content marketing without SEO. After all, you're spending a lot of time creating content. How will customers find it?

Unless you have a dedicated fanbase that's spending hours on your site already, you need SEO to draw people to your website and to your content.

This applies to your content as well as your eCommerce products. SEO and quality content marketing work together to make your brand more visible on search engines so you can get more business.
3 - Address user needs
The Lingble team believes that eCommerce should be about the customer first.

SEO and quality content marketing work together to give your customers an A-plus onsite experience. A holistic approach helps you target SEO keywords that customers will actually search for. That means writing content using those keywords that fulfills a customer pain point.

With the power of buyer personas, you can understand the customer journey. Let the customers' needs inform your next steps with SEO and quality content marketing. Use keywords, topics, and link building strategies to address these buyer needs.

Done right, you'll write content so good, it will seem like you're reading customers' minds.
4 - Improve SERP rank and user experience
You don't have to choose between user experience or search engine ranking. SEO and quality content marketing combine the two.

SEO is about technical optimization, while quality content marketing helps you give a great user experience. You need both to keep customers on your site.

Search engines notice if customers visit your site and leave in just a few seconds. If you have keyword-laden copy, usability issues, or navigation problems, that not only affects the customer experience, but decreases your search engine rank.

On the other hand, a phenomenal customer experience can boost time-on-site and your search engine rank. It's a clear win-win that you can only get when SEO and quality content marketing work together.
Invest In SEO and Quality Content Marketing
SEO and quality content marketing are a more solid investment than dumping more money on paid ads. They require a little elbow grease and a long-term view, but done right, SEO and content marketing are free strategies that transform your business and preserve valuable cash.

eCommerce businesses can't choose between SEO or content marketing: they must work together if you want results. Invest in a marketing strategy that allows SEO and quality content marketing to work together. In exchange, you'll reap the rewards of increased site traffic, brand awareness, and eCommerce revenue.