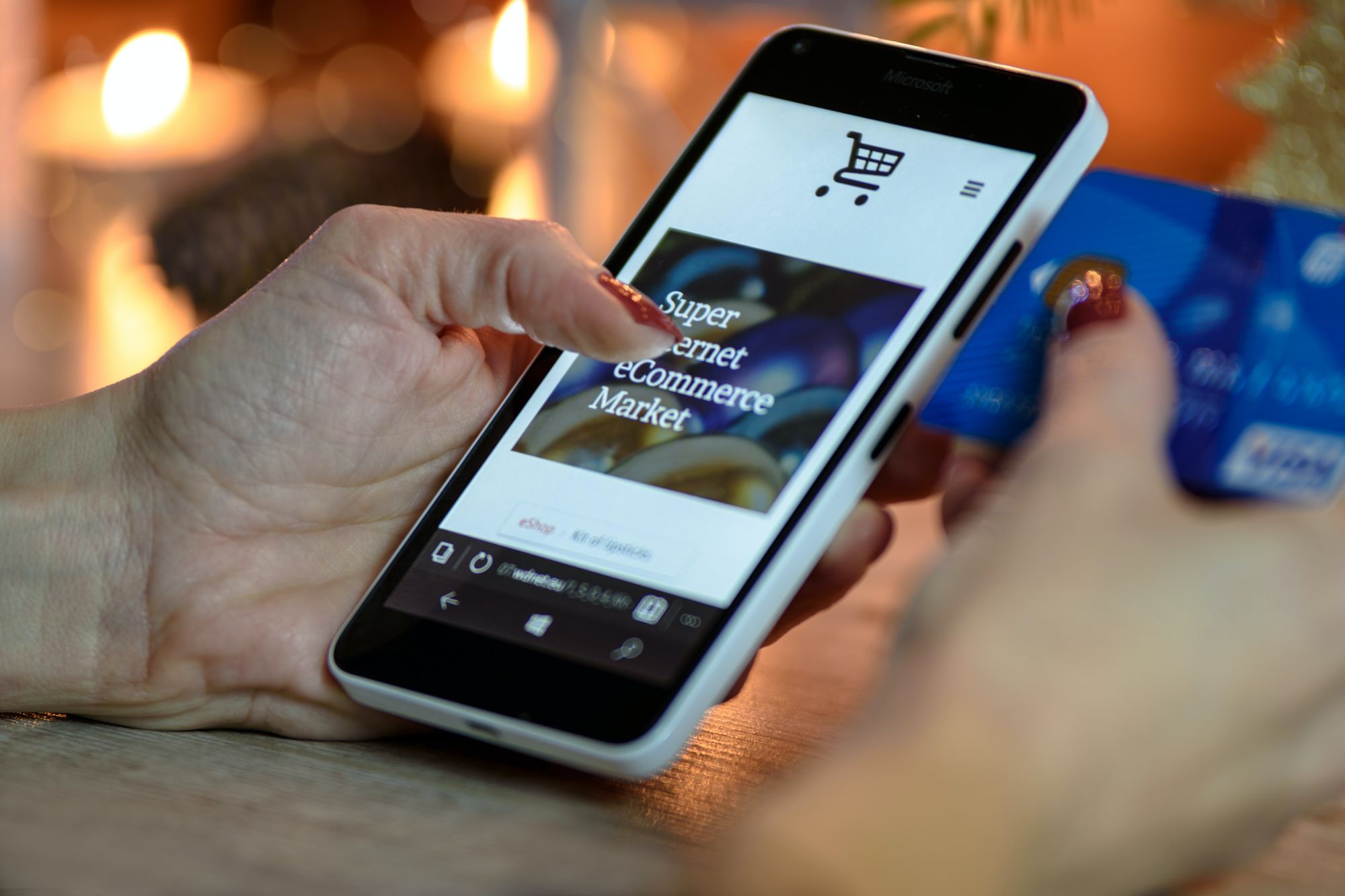 How to Seamlessly Pivot from Brick-and-Mortar to eCommerce
Many well-meaning people believed brick-and-mortar stores would quickly recover as the pandemic receded. But that's not happening to the extent many of us had hoped. In fact, eCommerce is booming, and for crafty entrepreneurs, it offers a goldmine of opportunities compared to traditional retail settings.

So, if you're looking to pivot from brick-and-mortar to eCommerce, now is the time. Here are our top tips for a seamless transition to the lucrative world of online shopping.

Where can you sell online?

You've got a successful brick-and-mortar store and want to switch to eCommerce. So, where's the best place to host your new online store? Fortunately, you've got several options.

Depending on your brand and goals, one of these four places will make the most sense for you and the customers you wish to serve.

#1. Build an online store from scratch

If you want the most control over your online store, building one from scratch that you host yourself is the way to go.

You choose a website name, AKA a domain, and then obtain your own website hosting. Then, you'll have to design the website layout and fill it with the necessary content. But the best thing about building your site and hosting it yourself is that you have the freedom to change the back-end functionality as needed.

#2. Hosted Platform

A hosted eCommerce platform differs from dedicated eCommerce sites because most of the site creation is already done for you. Essentially, hosted eCommerce platforms are SaaS offerings that give you all the functionality you need but without total control and freedom over the finer details of site design.

Shopify is one of the most popular hosted platforms for eCommerce stores on the market today. You can quickly create your storefront from a pool of pre-built options. Additionally, most customers won't know the difference between a hosted vs. self-hosted site. They offer the same functionality, but you will notice the difference the most. For instance, you won't have as much control over functionality or the ability to design highly-customized themes.

Upfront, hosted sites may also seem less expensive. But while they're cheaper to get up and running than a self-hosted store, the monthly fees will exceed basic self-hosted costs in the long run.

#3. eCommerce marketplaces

Marketplace sites like eBay, Amazon, and Etsy are another option. Think of these as an online flea market. You're renting an online booth to sell your products.

While these marketplace sites are similar to hosted eCommerce platforms like Shopify, they offer far fewer options for customization. You can't fully customize and brand your store. In addition, you don't actually own your store. The marketplace does. Most of these sites charge either a listing fee for a product or take a portion of each sale.  

The most significant benefit of using a marketplace site for your eCommerce venture is that it gives you an already primed audience. For example, on average, Amazon gets 59 million unique monthly visitors, while eBay sees 27 million.

Your listing will also display next to your competitors. So, you must create strong product listings to stand out. The best way to make money on a marketplace site is to also have your own domain and dedicated online store — whether hosted or self-hosted.

#4. Social media platforms

Four in five US adults are on social media and use at least one platform. So, getting your offerings in front of these people is a good idea for eCommerce brands.

But the options for selling on places like Facebook are limited and vary depending on which platform you're using. So, you'll want to research where your target audience will most likely be on social media.  

Pivoting from brick-and-mortar to eCommerce: Top 7 tips

Transitioning your in-person store to eCommerce isn't easy. Depending on your goals, you may want to retain your brick-and-mortar establishment or go whole-hog to online shopping only. This will impact your overall business plan and how you approach the move with your customers.

But the devil is in the details. So, let's explore how you can seamlessly transition to online shopping, retain your current customers, and gain new ones.

#1. Evaluate what your customers want

As a business owner, your goals aren't necessarily aligned with what your customers want from your brand. A business is only as successful as its customer base allows. So you'll need to figure out what your customers want for online shopping and deliver it to them.

Recent customer surveys have found that today's consumers value health, safety, and convenience. So to remain competitive, you'll want to offer curbside pickup, contactless pickup, and contactless delivery. Contactless anything keeps the shopper's safety in mind and is also convenient for them.

#2. Create a business plan for transitioning to eCommerce

This tip is closely aligned with the previous one. Anytime you're reevaluating a current business plan or creating a new one, your customer's desires and expectations should be at the heart of it.

See if your goals in your original business plan make sense to transition to eCommerce and if the venture will help you retain brand value. Reevaluate your target buyer personas to help you determine which audience you want to target for your pivot.

Another critical consideration is how your target customer's demands and expectations will change when you move to an online shop. For example, their location and purchase habits may change. In that case, you'll need to add different distribution channels, such as shoppable posts, on-demand delivery, and regional or nationwide shipping.

#3. Reevaluate your product line

You'll need to reevaluate and strategize your product range when pivoting from brick-and-mortar to eCommerce. What you've been offering may not make much sense to continue selling in the eCommerce realm. For instance, shipping and logistics may be an issue if everything you sell in your physical store is also made available for online ordering.

So, take a deep dive into your sales data. Evaluate what's been a big seller in the past versus what's a big seller now. Your sales data can provide valuable insights into strategizing and optimizing your inventory.

Another vital thing to consider is that it may benefit your store to change or diversify your product range. For example, popular local restaurants have pivoted to selling meal kits to help their customers cook at home. A pivot like this can help a brick-and-mortar store become more competitive when consumer sentiments change.

#4. Update your website

In a post-Covid world, online interactions with brands are twice as critical as before the pandemic. What that means for startup eCommerce ventures is that you'll need to put some serious time and consideration into your website user experience.

In a nutshell, your website needs to work perfectly and offer a seamless buyer's journey from the homepage all the way through to the click-to-buy button. Today's consumers expect top-notch, secure websites. And they'll bounce if your website doesn't load quickly or render seamlessly on a mobile device.

Some pointers:

Make sure you've chosen the right platform for your eCommerce store
Incorporate SEO best practices so people can easily find your site when searching online
Ensure quick, easy, intuitive navigation
Fix page load time issues
Design your site for mobile-friendliness
Make the checkout process fast and secure

Another critical aspect of eCommerce site design is clear and robust product descriptions. After all, people can't pick up and explore your products as much as they can in person.

Excellent descriptions and many images that show your product from all angles and give indications of size and scale are essential. How-to videos are also great for engaging people and showing them how the product works in person.

Be sure to display your reviews prominently on the product description pages for healthier conversion rates.

#5. Revamp your marketing plan

When you go from a brick-and-mortar to an eCommerce business, digital marketing becomes even more crucial to your success. But first, you'll need to research the best channels to attract your target audience to your online store.

While people have been using the internet to research products for many years, the pandemic has created a global shift to a digital-first approach. Mainly, people are using YouTube to check out new products they've come across and to learn about new ones.

Chances are, you're already familiar with social media and email marketing practices. But when you switch to eCommerce, digital marketing channels will become even more crucial to your ultimate success as an online merchant.

Here are some examples of successful traditional retail stores switching to digital-first marketing:

Wineries offering virtual tastings on social media live streams and via Zoom
Beauty brands using makeup and hair tutorials through video marketing
Personal trainers creating and selling online courses
Restaurants offering online cooking classes

The bottom line is you won't have the chance to build a relationship with VIP customers in person. Instead, you'll have to do it via digital marketing channels.

Pivoting from traditional retail to eCommerce: Takeaway

No matter what, you can't just create an eCommerce store on a whim and call it done. You'll need to be strategic about it.

A lot of thought and research goes into figuring out the best way to pivot from traditional retail to eCommerce. So if you're stumped and crunched for time, we can help.

At Lingble, our eCommerce marketing experts know how to research the best platforms and channels for eCommerce merchants and how to market their offerings to their target buyers. We also handle logistics and distribution, so you don't have to.

Get in touch with us today for a free consultation.