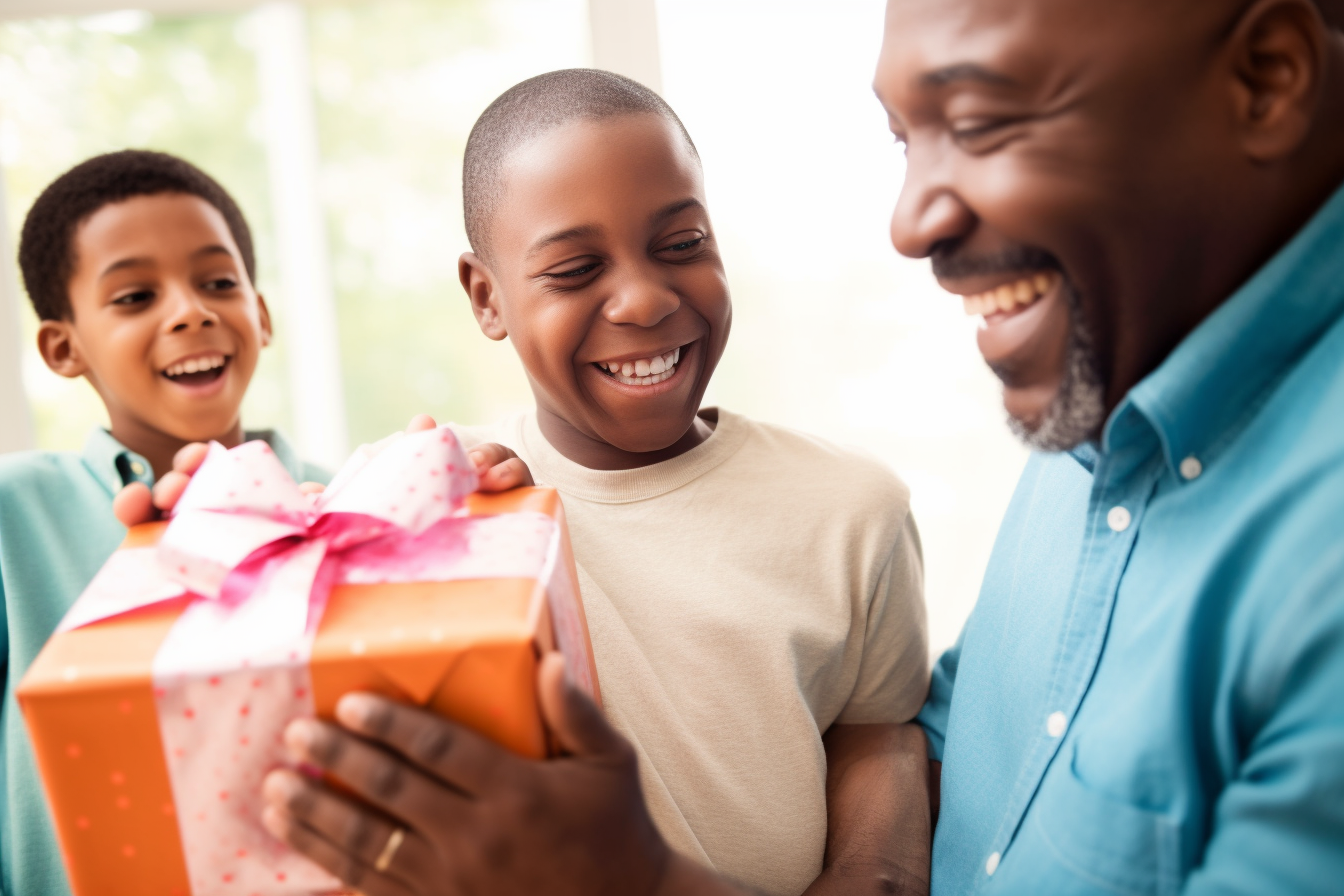 How to Use Father's Day eCommerce Statistics to Boost Sales
The third Sunday in June only means one thing — it's time to celebrate Dads. Father's Day gifts are one of the most important ways people show appreciation for Pops around the world. And with spending for Father's Day topping $20 billion in the US, getting a slice of the pie is crucial.
Father's Day is a special day for most sons and daughters. It's a day in mid-summer when we can celebrate the amazing fathers in our lives. According to the National Retail Federation (NRF), over three-quarters of adults in the US celebrate Father's Day.
For eCommerce businesses and retailers, the third Sunday in June is an opportunity to boost sales and help sons and daughters find that special gift for Dad. Therefore, it's crucial to recognize this day in the holiday calendar and leverage it to boost sales. And the only way to do this is by understanding Father's Day eCommerce statistics.
So, here's the bottom line for eCommerce retailers — only by analyzing and utilizing Father's Day eCommerce statistics can your businesses effectively target your audience and increase sales during the holiday.
In this article, we'll dive into the key Father's Day eCommerce stats you need to know for a successful holiday season.
Understanding Father's Day eCommerce Trends

Father's Day is one of the most important days in the summer retail calendar. So if you want in on the action, you need to understand the trends. Thankfully, it is not tricky to come up with ideas for gifts that Pops around the country will love. After all, which Dad doesn't love tech gadgets, apparel, sports memorabilia, and adventure days out?
What are the most popular gifts Dads love receiving on Father's Day? Here are some statistics in order of popularity:
A special outing
Clothing
Gift cards
Electronic gadgets
Personal care items
Tools or appliances
To ensure you attract the most traffic to your eCommerce store and maximize sales, focus on discounts, limited-time promotions, and bundles. Whether it's tech gadgets, apparel, or even just gift cards, chances are there will be plenty of kids out there — young and old — looking to make Dad feel special this June.
The following statistics give some insight into spending behavior for Father's Day:
Consumers aged 25 to 34 are the biggest spender on Father's Day, willing to spend $248.98.
Per person, men spend around $50 more on Father's Day gifts than women.
The average person spends $171.79 on gifts for their father.
Segmenting Your Audience
Segmenting your audience is key for leveraging sales in the weeks and days leading up to Father's Day. Therefore, as part of your marketing strategy, break down your target audience based on their interests, needs, and buying habits. This way, you can craft tailored promotions to target each group.
For example, it's vital to understand that putting tacky taglines like "Best Pop in the world" on a mug to a T-shirt no longer cuts it with consumers. Instead, it's vital to analyze the market to see what shoppers are looking for this Father's Day.
Here are a few ideas to help segment your audience:
Fathers interested in skincare
Fathers who love an adventurous day out
Fathers who appreciate the finer things in life
Fathers who like DIY or gardening
Fathers who are sports fanatics — either as spectators or participants
Your analytics will help you understand consumer behavior to target each segment of your audience more effectively.
Utilizing Data to Improve Marketing Efforts
Data-driven marketing is key to successful Father's Day marketing campaigns. You can more accurately personalize their buying journey with improved insights into customer behavior, interaction, and past engagement. For example, you can personalize promotions based on interests, demographics, location, and average purchase amount.
Then, armed with analytical data, you can focus on user experience optimization (UX). For example, here are more statistics from the NRF that can influence how to optimize your marketing efforts for people wanting to celebrate Dad:
Most consumers looking for Father's Day gifts online are between the ages of 25 and 44
Men spend, on average, 37% more on Father's Day gifs than women
Consumers in the Western US spend more on gifts than those in the Midwest
Only 25 percent of consumers don't celebrate Father's Day
The next step is utilizing data to create effective email and social media marketing campaigns.
Data-driven email marketing
Using data to understand your audience lets you effectively market Father's Day gifts using a successful email marketing campaign. For example, open rates, conversion rates, click-through rates, and subscriber patterns can help you identify trends. Additionally, based on segmentation data, you can personalize messages and send more targeted emails. The result is that data helps your email marketing efforts become more effective.
Data-driven social media campaigns
Statistics show that the most active social media users are the age groups most commonly purchasing Father's Day gifts. In the 25 to 29 age group and 30 to 49 age group, over 80% are active on social media. Therefore, it's crucial to discover which social media channels they use and which ones they are most likely to interact with.
A Father's Day landing page
One of the best ways to increase sales is to have a landing page for customers. Using data gathered from market trends and analysis, you can target specific audiences with a selection of landing pages. The pages should start with a unique value proposition and offer an incentive to click through. This could be a coupon or a special discount. Additionally, it's vital to create a sense of urgency or fear of missing out (FOMO).
Utilizing Customer Feedback and Reviews

Customer feedback and reviews are a goldmine of useful information to develop an effective Father's Day campaign this year. Whether it's what they love or hate, customer reviews provide valuable insights into their behavior, preferences, and how they rate your products. Therefore, take time to read customer reviews on Google, Facebook, and Instagram.
Here are a few ideas on how to leverage customer reviews and feedback in a marketing campaign:
Create a blog or social media post based on customer questions
Share reviews on your social media platforms and website
Invite customers to post images of how they use your products
Use surveys to get crucial customer data
Host a Father's Day contest and giveaway to boost engagement levels
Always respond to negative comments or feedback in a constructive way
Best Practices for Father's Day eCommerce Sales

Father's Day gifts are a great way for people to show the special man in their life how they appreciate them. However, leveraging sales for eCommerce Father's Day gifts can be tricky.
So, what are the best practices for selling the stuff Pops want this coming June? Here are a few ideas:
Start early: You should start planning an eCommerce sale campaign for Father's Day at the beginning of May. By this time, your Mother's Day campaign should already be underway. Ensure that a special "Father's Day Gift Guide" is prominent on your website from mid-May onward.
Offer unique, personalized gifts: Put together special gift packs tailored specifically for Dads. These can include personalized items, bundles of related products, discounted items, and creating gifts with Father's Day themes.
Utilize omnichannel marketing strategies: Ensure you utilize all marketing channels and your brand is consistent. This includes your website, emails, social media platforms, and Google Ads. Also, try to make the buying journey as seamless as possible. For example, the buyer should be able to start their search on a desktop device and complete the purchase on their smartphone.
Offer discounts and free shipping: Let's face it, even though adult kids want to celebrate Dad, they're also looking for a bargain. Therefore, consider offering discounts, coupons, or free shipping for orders placed before a deadline. This way, you give customers a strong incentive to get their orders in before the middle of June.
Provide excellent customer service. Excellent customer service is essential to ensure the customer's purchase journey is as smooth as possible. Therefore, ensure your website is optimized for desktop and mobile, it's easy to navigate, and Father's Day promotions are prominent.
Remember, customer relationships don't end with a Father's Day sale. You have worked hard to get the customer; you don't want to lose them now. Therefore, it's crucial to collect customer feedback and reviews. Then include them in your next campaign as you gear up to celebrate Independence Day.
Celebrate Father's Day with a Boost in Sales

Although celebrating Father's Day is a relatively new celebration — it only came into law in 1972 — the third Sunday in June is important. It's a day when people around the country buy gifts and show appreciation for their dads.
If you have an eCommerce store, the best way to maximize sales for Father's Day is to run a data-driven campaign. Segmenting your target audience, personalizing messages, and creating Father's Day-themed gifts will help meet customer demand.
Consumer trends show that interest in buying gifts for Father's Day is increasing. By leveraging data and creating unique gifts tailored to Dads, your eCommerce store can boost sales for this holiday.
Utilizing omnichannel marketing strategies, offering discounts and free shipping, and collecting customer feedback post-sale are all great ways to ensure success with a Father's Day campaign. With the right approach, your store can make the most of this important day to celebrate Dads.
Ready to get started? Talk to our eCommerce marketing specialists today.