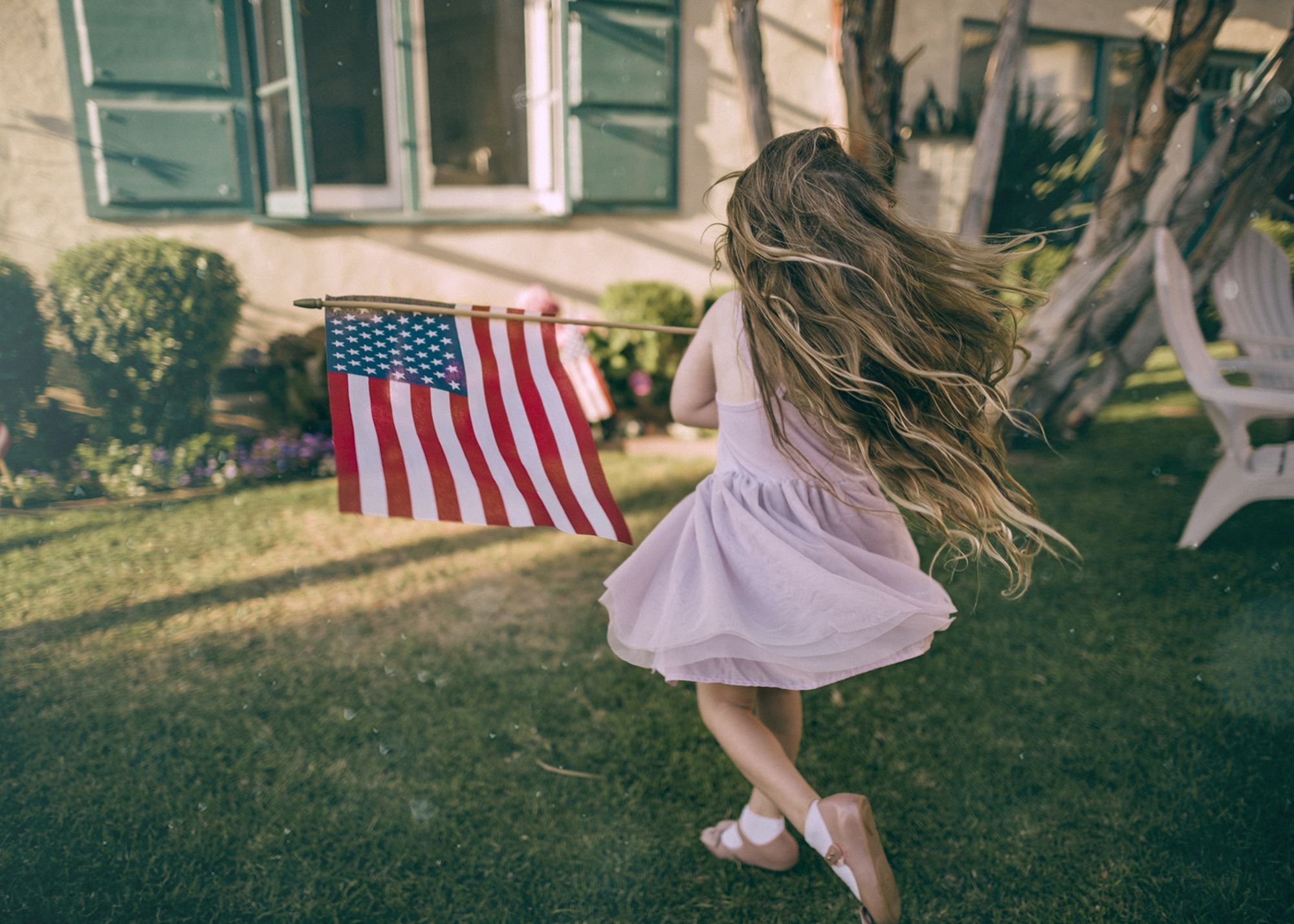 Red, White and Bought: Unpacking Fourth of July Consumer Behavior and Trends
Put on your virtual party hat and join us as we take a merry, yet insightful jaunt through one of America's favorite holidays — the Fourth of July.

Known for barbecues, fireworks, and an overwhelming sense of patriotism, this holiday is much more than stars, stripes, and sparklers. It's a rambunctious symphony of freedom, unity, and . . .  retail therapy.

As US consumers are busy celebrating their independence, their wallets are also indulging in a little freedom of their own. It's no secret that the Fourth of July is synonymous with consumer spending.

Hot dogs and hamburgers? Bought.

Fireworks? Bought.

Red, white, and blue everything? You betcha, it's bought.

This patriotic purchasing power has profound implications, shaping trends and setting cash registers ringing across the nation. As the grill heats up and fireworks light the sky, retailers rejoice in the rocketing sales figures.

Hang onto your hot dog buns. Let's explore the glorious union of the Fourth of July and consumer spending, where every star-spangled sale tells a story.
Setting Off the Sparklers: Understanding the Fourth of July Shopper

The patriotic purchaser often surfaces around late June, drawn out by the siren call of sales and the tantalizing prospect of a perfect Independence Day bash.

According to recent Fourth of July shopping trend statistics, 79.8 percent of Americans made a purchase in advance of their Fourth of July celebrations.

Their shopping cart? A veritable potluck of Americana.

Typically, the Fourth of July shopper is someone with a plan. They're armed with a grocery list that could double as a declaration of food independence. From buns to burgers, corn on the cob to coleslaw, they're on a mission to ensure their BBQ outshines even the brightest of fireworks.

While the average US adult consumer spent the majority of their Fourth of July shopping budget on food, let's not forget about the non-edibles.

This is where we see a kaleidoscope of red, white, and blue filling the cart. Think stars-and-stripes beach towels, Uncle Sam lawn decorations, and patriotic paper plates.

And let's not forget the pièce de résistance — fireworks. It's not a Fourth of July celebration without a dazzling light show in the night sky. On average, US consumers spend 2.2 billion dollars per year on fireworks for the Fourth.

Remember, though, not every Fourth of July shopper fits neatly into this profile. They're as diverse as the 50 states themselves. But one thing's for sure — they're all on the hunt for the ingredients of a memorable Independence Day.

So, whether it's bratwursts or sparklers, inflatable pool floats or star-spangled banners, understanding what's on their shopping list is key to cashing in on the Fourth of July festivities.

The Red, White, and Blue Buying Spree: Trends in Fourth of July Consumer Spending

Just like fireworks skyrocketing into the night, Fourth of July spending has seen a similar trajectory. Our beloved holiday of freedom and fanfare has become more than a day of grilling and chilling. It's become a star-spangled bonanza for retailers nationwide.

Each year, the collective chorus of cash registers ringing out in harmony grows louder. From Uncle Joe stocking up on hamburger patties to Aunt Sally hunting down the perfect patriotic party hat, consumers are more willing than ever to splurge on their Independence Day celebrations.

But hold your horses. Or should we say, hold your hot dogs?

The stars and stripes shoppers of today are showing a strong preference for experiences over materials. They're swapping traditional purchases for experiential offerings, seeking out gourmet barbecue packages, DIY firework kits, and immersive patriotic-themed events.

And the latest buzzword on the consumer streets? Sustainability.

More and more consumers are swapping single-use party items for eco-friendly alternatives. Biodegradable plates, reusable decorations, and locally sourced food are rising in popularity.
Retailers, take note — green is the new red, white, and blue.
Stars, Stripes, and E-commerce: How Online Retailers Can Maximize Fourth of July Sales
Once upon a time, the Fourth of July shopping spree meant braving crowded stores and long lines under the sizzling summer sun. But now, thanks to the magical realm of e-commerce, shoppers can snag their Fourth essentials from the comfort of their air-conditioned homes.

The land of the free and the home of the brave has indeed become the land of the one-click-buy and the home of the savvy online shopper.

Need a crate of hot dogs for the family barbecue? Click.

A red, white, and blue inflatable pool float? Click.

An eco-friendly firework display? Triple click.

It's as easy as apple pie. In fact, you can even order the apple pie online.

So, how can e-commerce platforms make the most of this digital revolution? Simple - by understanding and capitalizing on the trends we've already explored.

Offering experiential packages? Incorporate virtual reality tech for a truly immersive patriotic experience.

Promoting sustainability? Highlight your eco-friendly products and their impact on the environment.

It's all about aligning with consumer values while ensuring a seamless and convenient shopping experience.

But remember, timing is key!

Get your sales and promos out early to catch the wave of shoppers preparing for their star-spangled celebrations. It's about being the early bird that not only catches the worm, but also sets off the fireworks.
Bursting with deals: The Art of Fourth of July Promotions
Before we delve into the nitty-gritty of patriotic purchases, let's do a quick flyover of the landscape of successful Fourth of July promotions.

The Grill Masters — A leading outdoor gear company offered a discount on all grilling equipment in the two weeks leading up to the Fourth. They even threw in a free set of patriotic aprons and mitts for purchases over a certain amount.
The Fireworks Fanatics — An online store selling fireworks capitalized on the experiential trend by offering DIY firework kits with a 10 percent discount for early-bird shoppers.
The Eco Advocates — A popular e-commerce platform championed the sustainability trend by showcasing eco-friendly party supplies and offering attractive bundle deals.

From these case studies, a few key insights into effective discount strategies emerge:

The Early Bird Special — Start promotions early to catch shoppers as they begin planning their festivities.
The Bundle Bargain — Offer discounts on product bundles or purchases over a certain amount to increase the average order value.
The Sustainability Steal — Highlight eco-friendly products to appeal to the growing number of environmentally conscious consumers.

Patriotic Purchases: What Consumers Really Want for the Fourth

So, what's actually filling up those online shopping carts as the Fourth draws near? Let's break it down by product category:

Food and Beverages — Think BBQ meats, sides, drinks, and the classic apple pie. As they say, the way to a shopper's heart is through their stomach.
Party Supplies — This includes everything from patriotic decorations to disposable (or better yet, eco-friendly) plates and cups.
Outdoor Gear — From grilling equipment to inflatable pool floats, anything that enhances the outdoor celebration experience is a win.
Fireworks — The grand finale to any Fourth of July celebration, fireworks sales go off the charts during this time.

And what's driving these purchases? A few factors seem to be at play:

The Desire for a Memorable Experience — Shoppers are looking for products that will make their Fourth of July celebrations unique and memorable.
Sustainability — Increasingly, consumers are seeking out eco-friendly alternatives to traditional party supplies.
Convenience — The ease of one-click shopping and home delivery makes online shopping an attractive option for busy consumers.

So, whether it's mastering the art of the promotion or understanding the mechanics of the patriotic purchase, navigating the Fourth of July shopping bonanza is a surefire way to set sales alight.
The Digital Declaration: Enhancing Your Online Presence for the Fourth

As we approach the grand finale of our star-spangled exploration, let's touch on the all-important task of optimizing your online presence. To make the most of the Fourth of July, it's essential to ensure your online store and digital channels are firing on all cylinders.

Here's how:
Optimizing Your Online Store:

Festive facelift — Spruce up your website with patriotic themes and visuals that embody the spirit of the Fourth.
Highlight the heroes — Showcase your most popular Fourth of July products on the homepage for easy access.
Rapid-fire checkout — Streamline the checkout process to minimize cart abandonment.
Mobile magic — Make sure your website is mobile-friendly. After all, a large chunk of your shoppers will be browsing on their phones.
Delightful discounts — Clearly display your holiday discounts and promotions to entice customers.
Leveraging Social Media and Digital Channels:

Patriotic posts — Use social media platforms to share engaging content, such as Fourth of July trivia, recipes, and DIY decoration ideas.
Spectacular stories — Use Instagram or Facebook stories to share limited-time offers or flash sales.
Inbox invitations — Send out email newsletters featuring your Fourth of July promotions and special products.
Influencer initiatives — Collaborate with influencers who can showcase your products and amplify your reach.
May the Fourth (of July Sales) Be with You

Our insightful journey through the land of the Fourth of July consumer comes to close. We've explored everything from their shopping habits to their love for sustainable products. As we've seen, this holiday is a golden opportunity for eCommerce businesses to capitalize on patriotic purchasing power.

So, whether you're selling BBQ grills, eco-friendly party supplies, or experiential packages, remember to align your offerings with the evolving values of your customers. Because at the end of the day, understanding your audience is the key to any successful business strategy.

As the Fourth of July approaches, may your sales soar as high as the fireworks in the night sky.

Ready to light the fuse on your success? Get in touch with us today.