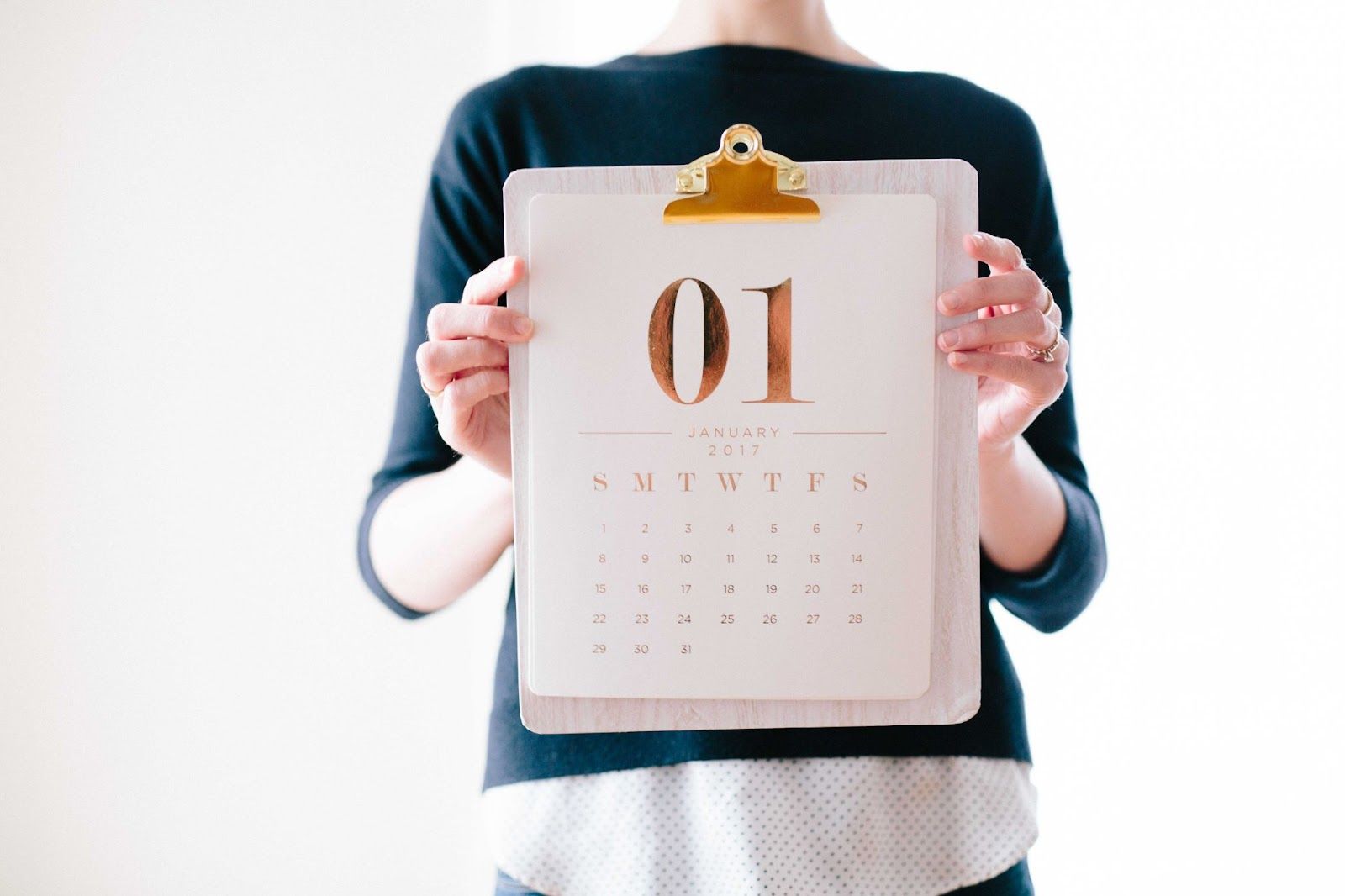 How to Use Calendar Events to Boost Sales and Brand Awareness
How to Use Calendar Events to Boost Sales and Brand Awareness
Have you ever found yourself drowning in a sea of digital promotions, struggling to make your brand stand out in the virtual world? Fear not, for we bring you the golden ticket (or should we say, golden-calendar) to elevate your game.

Behold, the enigmatic yet promising realm of calendar event marketing!

By tapping into the power of national days, seasonal events, and annual celebrations, you can captivate your customers' attention and propel your sales to record-breaking heights.

So, are you ready for this date with destiny?

Buckle up as we delve into the world of calendar-based marketing opportunities that will arm you with the ammo to craft irresistible promotions and enthralling campaigns that your customers simply can't resist.
What is calendar event marketing?
Customers are always on the hunt for an excellent, brag-worthy sale. Calendar events, whether they're an internationally-recognized holiday, or a promotion exclusive to your brand, give you the perfect opportunity to meet this burning desire in your target audience.

For eCommerce businesses, calendar event marketing is a strategic approach for promoting and capitalizing on specific dates, holidays, and events to drive sales, customer engagement, and brand awareness.

This marketing technique leverages the emotional and cultural significance of various events throughout the year, tailoring promotional campaigns and activities according to customers' interests, preferences, and spending habits.

Must-Haves for Mastering Calendar Event Marketing for eCommerce Success

There are several key components and facts to consider when implementing calendar event marketing in eCommerce businesses.
Identifying Relevant Events

Successful calendar event marketing starts with identifying the key events that resonate with your target audience. These events can range from well-known holidays such as Christmas, Halloween, or Valentine's Day, to lesser-known national, international, or even industry-specific events like Cyber Monday, Singles' Day, and Small Business Saturday.

By aligning your marketing efforts with these key dates, you can generate a surge of interest and drive customer conversions.
Creating a Marketing Calendar

Once you've selected the relevant events, it's essential to create a detailed marketing calendar outlining the promotional activities and strategies for each event. This calendar should contain important information such as promotional dates, marketing channels, and assigned team members.

Having a well-structured marketing calendar ensures that your marketing efforts are well-organized, timely, and effective in generating customer interest and sales.
Personalization and Segmentation

One of the most effective ways to increase the impact of your calendar event marketing is to personalize and segment your promotional campaigns based on customer data.

By using customer information such as demographics, purchasing history, and browsing behavior, you can create tailored marketing messages and special offers that cater to their unique preferences and interests. This tactic has been proven to enhance customer engagement and improve the overall performance of your marketing campaigns.
Multi-Channel Approach

Embracing a multi-channel approach when executing calendar event marketing is crucial for reaching a wider audience and achieving a higher ROI. By utilizing various channels, such as email marketing, social media, search engine optimization (SEO), and paid advertising, you can create a cohesive and integrated marketing campaign that leverages each platform's strengths and capabilities to deliver the most effective promotional message.
Measuring Success

Tracking and analyzing the performance of your calendar event marketing campaigns is crucial for evaluating their success and identifying areas for improvement. Metrics such as sales revenue, conversion rates, and customer engagement levels can provide valuable insights into the effectiveness of your promotional efforts.

Consistently measuring and optimizing your campaigns allows you to refine your marketing strategies, ensuring that your calendar event marketing efforts will yield maximum results for your eCommerce business.
Top strategies for leveraging the power of calendar events

To effectively leverage the power of calendar event marketing, eCommerce businesses must implement a combination of specific tactics that cater to their target audience's needs and preferences. These tactics not only boost brand visibility, but also drive customer engagement and increase sales.

Here are some pertinent tactics that eCommerce businesses can employ for successful calendar event marketing:
Thorough Market Research

To fully capitalize on calendar events, businesses must be aware of all relevant holidays, industry events, and seasonal trends that affect their demographics.

This includes conducting market research and analysis to identify the most significant events for the target audience, the time of the year they occur, and how competitors are utilizing these events in their marketing strategy.
Event-Specific Promotions

Design tailor-made promotions, discounts, and exclusive offers for specific calendar events. These can include free shipping during the holiday season, flash sales for cultural events, or buy-one-get-one-free deals in conjunction with sporting events.

Aligning promotional activities with memorable events increases the chances of customer engagement and conversions.
Themed Content and Visuals

Create captivating content and visuals that capture the essence of a specific event. This can include blog posts, social media updates, and email newsletters with engaging event-themed content.

This strategy helps draw customers' attention to your brand while also showcasing your brand's persona and values.
User-Generated Content

Encourage customers to share their experiences related to a specific calendar event by posting photos or videos on social media platforms using a specific hashtag. This user-generated content builds trust and also promotes social sharing, resulting in more significant brand visibility.

Cross-Platform Visibility

Promoting calendar event marketing campaigns across various platforms like social media, email, website banners, and even offline channels establishes a robust online presence.

This approach ensures that customers encounter advertisements and promotions for specific events across multiple touchpoints, increasing the chances of engagement.
Personalization and Segmentation

Leverage customer data and insights to personalize marketing messages based on demographic, geographic, and behavioral factors. This personalization enhances customer experience and relevance, resulting in higher engagement levels and increased sales.

Early-Bird Campaigns
Launch marketing campaigns prior to an event, allowing customers to avail themselves of special offers and discounts before the event commences. This approach boosts sales during the event and also creates a sense of urgency, encouraging customers to make purchases earlier.

Influencer Partnerships

Collaborate with influencers related to specific calendar events or relevant to your target audience. Influencers can create authentic and engaging content, generating buzz and increasing brand visibility among their followers.
Post-Event Follow-Ups

Engage with customers after the event through follow-up emails, retargeting ads, or surveys. This follow-up communication helps maintain brand presence in customers' minds, leading to potential future sales and customer loyalty.

By implementing these specific tactics, eCommerce businesses can effectively leverage the power of calendar event marketing to engage customers, increase brand visibility, and ultimately, drive sales.
Example marketing event calendar

This example calendar outlines crucial marketing events and strategies for an eCommerce business, with a focus on leveraging holidays and observances to optimize sales, visibility, and customer satisfaction.

No stone has been left unturned, as we dive headfirst into a cornucopia of sales-driving events that will have your customers clicking "Add to Cart" like there's no tomorrow.

January:

New Year's Day Sale (1st) — Promote new products and special discounts, using email marketing and social media campaigns to reach customers looking to start their new year with fresh purchases.
National Winter Sales Month — Capitalize on the post-holiday shopping trend and continue offering deals and promotions throughout January, especially on winter items and apparel.
Martin Luther King Jr. Day Sale (3rd Monday) — Offer special promotions or discounts to celebrate diversity and inclusion in line with the values of Martin Luther King Jr.

February:

Valentine's Day Sale (14th) — Highlight romantic gift ideas and couple-focused products, offering special discounts and personalized shopping experiences.
President's Day Sale (3rd Monday) — Leverage popular patriotic themes and offer deals on American-made products to drive engagement and sales.

March

International Women's Day Sale (8th) — Celebrate women with special discounts and promotions on women's products, while also highlighting female-owned businesses and brands.
St. Patrick's Day Sale (17th) — Offer discounts on green-colored items and Irish-themed products, making use of creative social media campaigns and email newsletters.
Spring Clearance Sale — Engage customers by offering clearance sales on end-of-season products, making room for new inventory and driving customer interest in upcoming collections.

April

Easter Sale — Promote springtime items and gift ideas, as well as Easter-themed promotions like gift-with-purchase and "secret" product deals to drive customer excitement.
Earth Day Sale (22nd) — Showcase eco-friendly, sustainable products and offer promotional discounts to highlight your eCommerce store's environmentally-conscious approach.

May

Mother's Day Sale (2nd Sunday) — Drive sales by highlighting gift ideas and personalized shopping experiences for moms, offering discounts on gift items or bundled product promotions.
Memorial Day Sale (Last Monday) — Utilize the long weekend by offering extended sale periods to boost sales, promoting summer-themed products, and leveraging social media campaigns.

June

Father's Day Sale (3rd Sunday) — Foster customer engagement by offering tailored product recommendations and promotions for dads, as well as special-themed gift items.
Summer Solstice Sale (21st) — Celebrate the start of summer and promote seasonal sales by offering discounts on outdoor products and activities, swimwear, and travel accessories.

July

Independence Day Sale (4th):

Utilize patriotic themes and promotional offers on American-made products to drive customer interest and additional sales during the Fourth of July.

August

Back-to-School Sale:

Capitalize on the shopping season by promoting discounts on school-related items, electronics, and apparel, while using targeted email marketing to reach parents and college students.
September

Labor Day Sale (1st Monday):

Leverage the long weekend for a final summer sales push, offering discounts on end-of-season products, vacation deals, and barbecue essentials.

October

Halloween Sale (31st):

Promote discounts on costumes, accessories, and party supplies, using seasonal themes and engaging social media campaigns to generate customer excitement.

November

Veterans Day Sale (11th) — Offer exclusive promotions to honor and support veterans while promoting patriotic products and themes.
Thanksgiving Day Sale (4th Thursday) — Utilize this holiday season to promote special discounts on homewares, cooking appliances, and other products relevant to Thanksgiving festivities.
Black Friday Sale (Day after Thanksgiving) — Create an irresistible event by offering attractive flash sales, limited offers, and other promotional strategies to maximize customer engagement and sales.
Cyber Monday Sale (1st Monday after Thanksgiving) — Extend sales promotions into the world of eCommerce for a final weekend sales push, offering exclusive online discounts and bundled shopping deals.

December
Christmas Sale — Capitalize on holiday shopping with discounts, limited-time offers, and exclusive promotions on popular holiday products and gifts.
End of Year Clearance Sale — Use incentives like "buy one, get one free" or clearance pricing on select items to drive customer engagement and final yearly sales while making room for new inventory in the coming year.


Maximize your event calendar marketing and boost sales with Lingble
Leveraging calendar event marketing will keep your eCommerce businesses way ahead of the competition. Tailor our example marketing calendar to your unique products and audience to secure a successful, engaging event marketing approach that will have your customers clicking, sharing, and buying.

Focusing on key holidays and observances throughout the year gives you plenty of inspiration for your next sales event. But if you're still a little iffy on how to fully market your sales event for maximum success, that's what we're here for.

Reach out to us today for a free consultation and let's get those profit margins up, up, and away!